On Campus
Sixteen Honored with Staff Performance Awards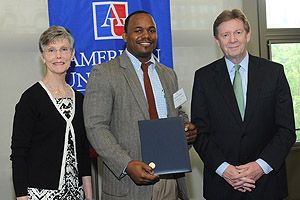 American University honored the winners of its 2012 Staff Performance Awards on May 22 at a luncheon in the Mary Graydon Center.
The program, established in 1998, recognizes outstanding performance by staff at the university. Nominations come from supervisors, subordinates, peers, faculty, and students.
This year's winners are

Maureen Breslin, Customer Focus – As assistant director, Academic Support Center-student athletics, Breslin is instrumental in the academic success of AU's student-athletes. In 2010–11, AU student-athletes had an overall GPA of 3.34.
Donald Curtis, Diversity – Curtis, operations coordinator in the Center for Community Engagement and Service, works with many different constituencies across campus on matters ranging from service opportunities to the day-to-day concerns affecting their organizations. He's the driving force behind the Resource Group, which under his leadership has transformed from a number of informal discussions on identifying challenges faced by students of color into a flourishing organization that brings people from across departments together to discuss issues and propose tangible solutions.
Sharjil Hassan, Service to the AU Community – Running the Project Management Office in the Office of Information Technology, Hassan created a project management training program that allows staff to apply effective principles to manage their assigned projects from start to finish. He expanded the program campus-wide and more than 80 people from outside OIT have attended.
Kogod Now team – With a print and online circulation of 15,000, the Kogod School of Business magazine has increased the visibility of the school and its faculty's research. Editor Jackie Sauter, the trio of Erin Willcher, Anna Miars, and Laura Caruso, who developed the electronic version of the magazine, and Lara Kline, who secured political and financial support for it, have made the publication a success in just one year.
IDPP team, Diversity – AU is the first institute of higher learning to offer a Disability Policy Master's Program and Institute. As a joint venture with the National University of Singapore's Lee Kuan Yew School of Public Policy, the program now recruits and helps exceptional students from Asian countries with a range of disabilities to become degree candidates. Maya Aguilar, Consuelo Nelson, Erica Seng, and Clyde White Jr. were the honorees.
MAP-Works Student Success Tool team, Teamwork – The MAP-Works software, designed to increase student retention through early identification of risk factors known to affect student attrition, was implemented successfully in just three months. The online survey had a 65 percent completion rate and helped boost the fall 2011 to spring 2012 retention rate to 97.5 percent. Ryan Anderson, Marianne Huger, David Kaib, and Ann Parambil were recognized for quick and successful implementation of the program.
All the winners receive
•    an award certificate
•    an invitation to a years of service and staff performance awards luncheon
•    a day off from work
•    a $750 monetary award, not to exceed $5,000 in the case of a group award
•    a photograph with President Kerwin and their division vice president