On Campus
Michelle Obama: Olympic Games Are about Finding Inner Strength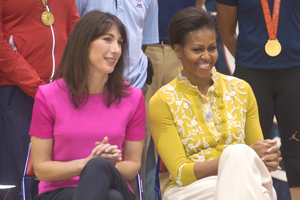 First Lady Michelle Obama will lead the U.S. presidential delegation to the Olympic Games in London, a plan she announced in March at American University.
Obama and her guest, Samantha Cameron, wife of British prime minister David Cameron, came to AU in the spring for a mini-Olympics competition as part of Obama's "Let's Move" initiative.
"This is why we're here today," Obama told 60 schoolchildren from Washington, Maryland, and Virginia. "The true spirit of the games isn't just confined to the two weeks of competition in the summer. It's not just about who wins the gold or which country wins the most medals. Instead the Olympic Games are about commitment, determination, and most importantly, teamwork. The games are about finding our inner strength."
Obama was joined by members of the U.S. Olympic and Paralympic teams, who led the students in activities including basketball, tennis, and running. That she chose AU to stage the event, which was closed to the public, was a sign of the esteem in which she holds the university, said Anita McBride, executive in residence at the School of Public Affairs and former chief of staff for First Lady Laura Bush.
"I think it's certainly wonderful when the president and first lady of the United States visit," McBride said. "To come to AU shows our important presence here in Washington. The fact that they'd extend a further honor by bringing such an important international guest underscores the important role this university plays not only in the Washington community but the global community.
"These games are about inspiring you guys to move," Obama told the kids. "That's what I want you all to do with 'Let's Move!' You guys know that 'Let's Move!' is about ensuring young people like you guys get up and get moving. We want to use these games as a way to jump start people into moving.
"That's what's so beautiful about these games," she said. "They don't just allow us to marvel at the skills and achievements of the world's greatest athletes. They help us all dream bigger."