International
Back from Vacation, Lohr Still Has Georgia
On His Mind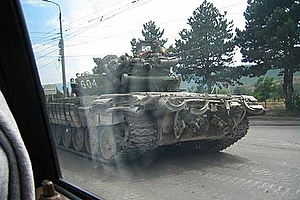 Disney World, it was not.
Last winter Russian history professor Eric Lohr and his family planned an August vacation to the former Soviet bloc country of Georgia. There his wife, Anya, would become godmother to a dear friend's new child and the family could explore a fascinating country. But way back in January they had no way of knowing that between the christening and sightseeing, they'd be caught in the crosshairs of a bloody war.
Two days after the Lohrs arrived in the capital city of Tbilisi on Aug. 5, fighting broke out between the Georgians and Russians. While the couple and their two young children never were in grave danger, their vacation was a bit more harrowing than a weekend in Ocean City.
"We were all very tense, but my kids thought it was a big adventure," Lohr said.
After the baptism, the Lohrs and their hosts piled into a van for a 14-hour car ride high into the Caucasus mountains.
"It's an amazing country," Lohr said of Georgia. "It's a mountain country with a valley running east-west all the way through it. We went essentially from east to west in about six hours, then we went north. There is one highway that goes all the way across the country. There are cows standing on the roads, and chickens crossing, and cars passing each other. It was a gut-wrenching drive."
On the way, the group encountered truck loads of Georgian troops traveling the opposite direction. For seven-year-old Alexi and five-year-old Andrei, it must have been thrilling to share the road with tanks and armored military vehicles. For their parents—not so much.

"We thought, 'Wow, this is a big exercise,'" Lohr said, laughing with the benefit of hindsight. "There were trucks with rockets and tanks and armed personnel carriers, and then just a lot of pick-ups with guys in the back with guns. We thought this was a big show of force."
When fighting broke out late on Aug. 7, the Lohrs were isolated in the mountains, far to the west of the disputed territory of South Ossetia, where the violence began.
"We didn't think it was a big deal, because we were really in the middle of nowhere high in the mountains," he said. "So we weren't too concerned initially."
The night of Aug. 8 everyone watched war coverage on satellite TV, and it became clear that Russia was responding with great force. So the group decided to head to Racha, an area much closer to Tbilisi, in case they had to flee to the expected safety of the capital.
"It was there we heard the Russians had carried out concerted bombing attacks all throughout Georgia, and that was a real shock to everyone," Lohr said. "We were close enough to South Ossetia that we could hear the occasional plane and a couple of bombings. No one expected Russia to cross the boundaries into Georgia proper for retaliation. That was a shock and surprise."
A bit unnerved, the group headed back to Tbilisi, traveling through the central city of Gori, which had been hit hard by the Russians.
"That was the scariest drive," Lohr said. "We saw the burned out apartment buildings, we saw the results of a couple of bombs that had burned down some forests. We got stuck behind a line of six tanks, which in retrospect was the most dangerous moment because those tanks, we heard, were destroyed only hours later."
With the Tbilisi airport closed, the Lohrs' next move was to try to obtain visas at the Azerbaijan border, but they were turned away. Fortunately, five days after the war broke out, it was over. Soon after the fighting stopped the family boarded a Lufthansa plane destined for home.
For Georgia, the war was a crushing defeat, for Russia, another attempt to flex its muscles and another step toward political isolation. Two months after the conflict, its causes and ramifications remain in dispute.
For the Lohrs, the week-plus was an indelible memory; a family vacation they hope never to replicate, but one they definitely will never forget.