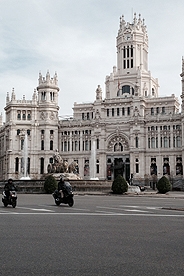 Students with intermediate to advanced level Spanish proficiency will have the option of an internship during the fall, spring, or summer AU Abroad programs. The practical experience will provide an excellent opportunity to examine the work environment in Spain and to learn more about the professional sector in a given field first-hand. On-site staff help identify internship placements and schedule interviews for students. Internships are available in a wide variety of disciplines including but not limited to the arts, non-profits, local NGO's, teaching English, public relations, media, international relations, etc. The internship in Spain is worth 3 credits. During the fall and spring terms, students spend approximately 15 hours a week at their internship site.
In addition to the actual time students spend at the internship placement, all interns in Madrid also participate in a guided course that meets at the AU Madrid Center, usually once every two weeks. This course is usually instructed by our Program Director. In this course, students are able to discuss their internship experience with other interns and to learn more about other student's placements. This is an opportunity to analyze challenges each intern is facing and how to best approach situations encountered in the internship. As part of this internship course, students will do some academic assignments and a research paper as given by the professor. The grade for the internship is a combination of an evaluation done by the internship supervisor and the grade for assignments completed in the internship course.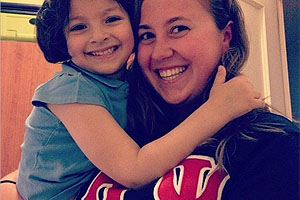 Living with a Spanish Family in Madrid
Full language integration happens in the home as well as the classroom. During all of the fall, spring, and summer AU Center programs, students live in a Spanish home with Spaniards. The homestay allows AU students to experience the warmth and hospitality of Spain while improving Spanish language skills. In the homestay, students enjoy breakfast, evening meals, and weekly laundry. Students have their own room within the Spanish family's apartment. Students commute approx. 30 min from their homestays to the program offices in the center of Madrid.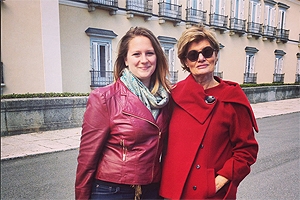 Homestay Request Process
The homestay selection process begins by the student filling out a Homestay Placement Questionnaire after acceptance to the program. This form collects information about the student's personality, interests, and dietary restrictions. On-site staff in Madrid match students with a family based on their stated needs. Upon arrival students are picked up at the airport by program staff and move into their homestay family's apartment during orientation.
Student with homestay family and their cat.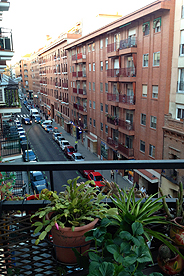 View from a Madrid apartment balcony.
What will my homestay family be like?
There is no "typical" homestay family. Just like in the USA, families in Spain will range from A to Z. Some families have two parents in the home, while others only have one parent. Some families have children, while some do not. Some homestays have young children in the home, while others have high school or college aged children, while other families may not have any children in the home. Some homestays are comprised of a single woman, a widow, or divorcee who has space in her apartment to house foreign students. Each homestay family is carefully evaluated and reviewed by our on-site staff prior to becoming part of our homestay program.
Will I live right next to where I have classes?
No. The homestay families are located throughout the city of Madrid. You will commute to school, internship, and social outings using Madrid's fantastic metro and bus system. All homestay placements will be near public transportation. The AU Madrid Center is centrally located near the "Nuevos Ministerios" metro stop. Each student's commute will be different, but will often include a short walk to the metro, then a metro and/or bus ride, and then a short walk to the AU Center. Student's commutes can range from 10 - 45 minutes depending on the location. Read more about public transportation in Madrid.
Will I live in a house or an apartment?
Your homestay placement will be in an apartment. Madrid is a huge, dense city. Most people live in apartment buildings unless they live far outside of the city in one of the surrounding suburbs.
Will I have a curfew? Will my social life be curtailed by being in a homestay?
No. You may be apprehensive about living in a new home for your semester in Madrid. Spaniards are extremely social, and your homestay family will expect you to be out and about enjoying your time in Madrid also. Your family will treat you like an adult and you should treat them with respect. Being treated as an adult brings with it the requirement to behave as an adult. There are certain rules of behavior that you will be expected to follow when you are in the family's home. These rules do not restrict your freedom in any way, but they do require you to act with courtesy and respect for the lives of the people with whom you will be living.
Can I live in an apartment on my own or with another AU student instead of in a homestay?
No. All students in the AU Madrid Center programs are required to live in a program sponsored homestay. Immersion into the Spanish culture and improvement of Spanish language skills are the primary goals of AU's study abroad programs in Madrid. The best way to be immersed is by living with Spaniards and experiencing Spanish life on a daily basis.