Marian Flaxman Comparative Health System: Spain/Europe
I'm a non-traditional student, in my early 30s with 3 daughters, so traveling to Spain for a semester was never going to be an option for me. I was excited to learn more, in depth, about how European systems, and issues within those systems, differ from the challenges we face with healthcare in the US. It has made me think a lot more about how we define aging, life quality vs life quantity, and additionally what the impact will be long term of so many Americans going on disability at a younger age, at the same time as the boomer population reaching retirement and requiring more public support. Also, during this pandemic, it's nice to be able to talk to someone in another hard-hit country, and get their perspective on how their country is handling things, what has worked and what hasn't, and most recently, what might be causing their second spike of cases and hospitalizations. I also just really like my professor and value his teaching and communication style
Annie Roebuck Clashes & Alliances in Fall 2017, Iberian Experience in Spring 2018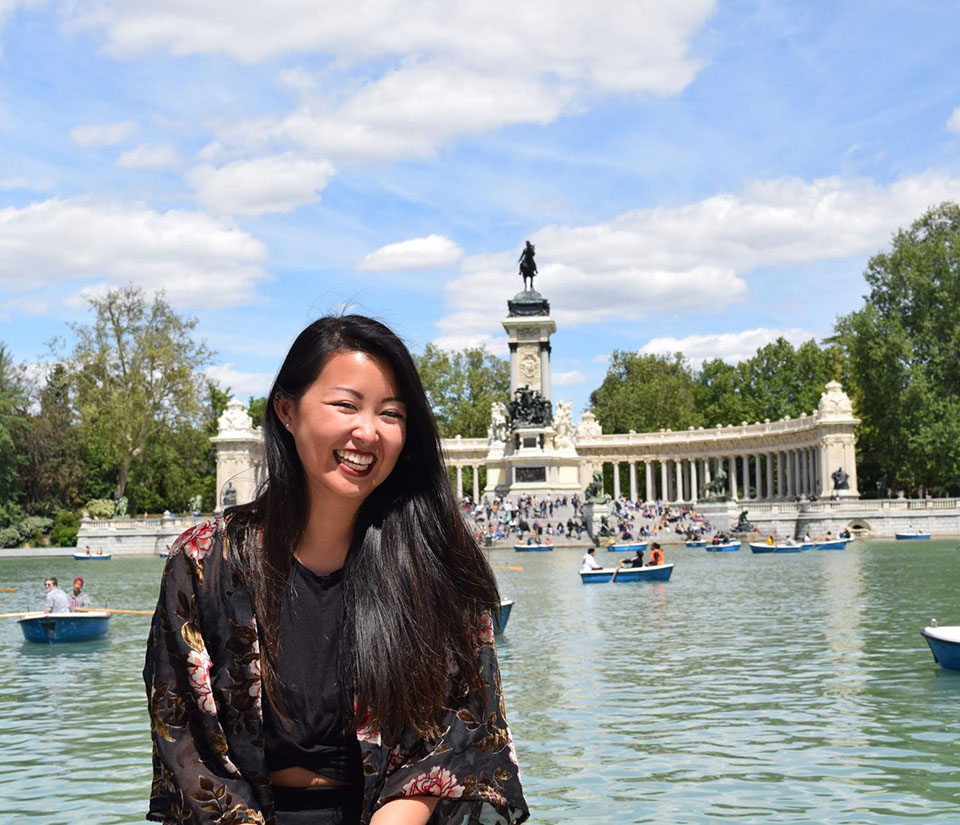 Deets
Year of Study: 4th-year student at AU
Major: International Relations with a minor in Communications and Spanish, SIS Honors Program
Hometown: Pittsburgh, PA
On a scale of 1-10, how likely are you to recommend an AU Study Abroad experience to your friends: 10!!!!!
Read Annie's story
Until I went to Spain I had no idea ... That I could feel so completely at home in a new environment. I had always looked forward to studying abroad, but I'd expected that I would always experience some level of discomfort. But I was in for Spain so long that eventually I felt just as home there as I did in Washington D.C. or Pennsylvania.
Did your Spanish improve? I've been studying Spanish since kindergarten but living an immersive experience really does make all the difference. Once I was living in Spain and using Spanish in class, at my homestay, and out in the city I finally got over my fear of making mistakes. My listening, reading, and speaking skills improved so much.
You were in Spain during a pivotal political moment, right? I was. During my stay in Spain the region of Catalonia held an independence referendum. The referendum failed and there was a lot of chaos surrounding it. It was definitely the #1 topic of conversation for a while. Some people think Spain retains a pretty machista culture, and in some senses it does, but feminism is really gathering more and more strength. I saw that firsthand.

Where did you live in Spain? I lived with a host family in the Hortaleza neighborhood of Madrid. They were absolutely wonderful. It was their first year hosting students. I lived with a mom, dad, two kids and a dog named Ron. <<laughs>> I loved hanging out with them and the home-cooked croquetas were amazing.

Where did you go during your year abroad? Greece, Italy, Morocco and Andalucia in the Fall. Andalucía, Extremadura, Portugal, Norte (País Vasco, Galicia, Cantabria, Asturias) in the Spring *all of these trips were included in the programs I did.

Biggest "amateur traveler" moment? The first time I stayed at a hostel, I forgot to bring a towel. Yeah… Now I know.

Is Madrid's nightlife really as amazing as people say? Yes. Madrid is known for its spectacular nightlife which was all new to me. I wasn't 21 before I went abroad so I had never been to clubs in the states. The Madrid nightlife doesn't really start hopping until 1 am.
What are the top 3 most-played songs on your Spotify Spain Playlist? 1. La bicicleta - Shakira, 2. Oy - Farruko, 3. Don Omar - Danza Kuduro ft. Lucenzo. If you listen to those songs, you'll be ready for the clubs! (Listen to Annie's top 3 songs on her Spotify Madrid Playlist)
The Madrid 411 Annie's Best List
Hottest neighborhood at night: Malasaña
Best lunch place for under €10: Takos (€1 tacos!)
Best way to spend a sunny afternoon: Walking through Retiro Park
Best free view to take stunning sunset photos: Circulo de Bellas Artes
Best lesser-known museum: Museo Sorolla
Best place to find a bargain: Tiger - the dollar store of your dream
Best place to get free tapas: El Tigre
You're a pop culture nerd what did you learn about pop culture in Spain? They have their own reality TV shows, like Survivor in Spanish. Everyone is in love with fútbol of course. My host family would go to a Real Madrid game every week.
Craziest experience? Randomly deciding with my friend Val to try and climb to a mountaintop castle in Athens on a 40-minute lunch break. It was almost a vertical climb straight up. But the view of the sun shining down on the ocean was stunning. In Valencia, I stood in front of a 5-story fire! I went to the "Las Fallas" festival in Valencia where they create massive sculptures on every city block. On the last night of the festival, they burn them all! It's like the entire city is on fire.
Most surprising food moment in Spain Wherever I traveled, I made it a point to try the local specialty. As long as you show an interest, local people will be really open to sharing it. So in Segovia, I sampled baby suckling pig! In Galicia, I tasted octopus. And of course I had to try their Tarte de Santiago. That's a famous almond cake with a powdered sugar cross on top. The cake dates back to the Middle Ages. In Valencia, I enjoyed paella. I tried a calamari sandwich in Madrid which I thought was gross because Madrid is nowhere NEAR a coast.

What advice would you give to college students considering studying abroad? Don't be afraid to explore! Get out of your comfort zone and make sure to embrace every experience you can.

Something you learned in Spain that you couldn't have learned in a U.S. classroom? Ha. I learned how truly diverse Spain's autonomous communities are. I remember in my sophomore year, I failed a pop quiz about Spain's regions because I had so much trouble differentiating them. When I got the chance to actually travel to the different regions and talk with my host family, the regional differences stopped being abstract because I had experienced them for myself. I heard the bagpipes in Galicia, drove through the green mountains of Pais Vasco, tasted the Iberian ham of Extremadura, and drank the sidra of Asturias.

The most useful thing you packed? Hands down the most useful thing I brought was my DSLR camera. I must have taken thousands of pictures. Yesterday I printed out 400 photos! And those were just the best of the best!
Madrid Culture in Five Words?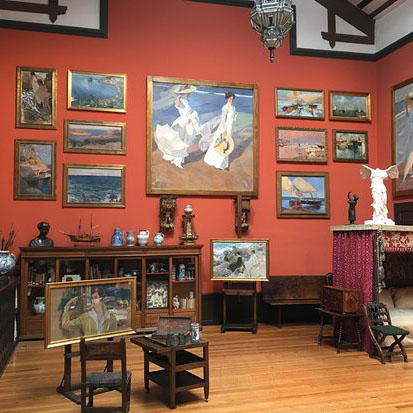 Modern
Artsy
Cosmopolitan
Go-with-the-flow
Chill
What did you learn on the Spain Semester that you don't think you could have learned at home? That there's so much more to life than school. <<laughs>> During my first two years at AU I was so focused on academic achievement that I didn't let myself just live. When I was in Spain I learned so much outside the classroom that I couldn't have learned through traditional studying or lecture. You can understand so much about a culture and people by actually going out and embracing it. When we would learn about historical sites in class, the next day we'd actually go SEE that place in person. In my art history class, we'd talk about a painting in detail for an hour and then we'd go to El Prado and take in the actual painting itself. It was pretty mind-blowing
Not to #MadridBrag but... By the end of my time there, I could navigate through Retiro Park without a map and I knew where ALL the Zaras* were along the Gran Via Sol.**
*Spain's most famous fashion retailer
**Madrid's most famous shopping street
Do you miss Spain? In terms of lifestyle, yes. I miss it every day. My life in the U.S. is definitely more stressful. It's always about what I need to do instead of what I want to do.
Future plans? Grad school one day. But not right away. And I'm applying for a Fulbright to study in Argentina. We'll see!
- By Adriana DiFranco