Shay Dawson Fall 2020 Virtual Internship Student Profile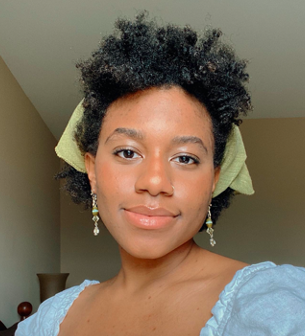 How does this internship relate to your major at AU and/or your career plans?
I am currently a double major in African American & African Diaspora studies as well as Women's, Gender and Sexuality studies, so my internship with the Feminist for Peace, Rights and Justice Centre (FPRJC) incorporates facets of both majors. As far as my ultimate career goals are concerned though, I aim to become a museum curator who specializes in narrative collection and digitization! My current project, "The Women and Girls of the FPRJC" allows me to dabble in both of those aspects by highlighting the varied lived experiences of those who are a part of the organization.
What have you learned so far in the internship that is particularly useful/interesting?
One aspect I've learned that has been useful is how to be able to engage with others' different understandings of the world without imposing my own biases. In learning this, it's allowed me to listen to stories of these women that highlight why feminism is so important to them. Despite not leading identical lives, their reasons for engaging in feminist efforts still align with my reasons for doing so as well, despite the many ways in which our foundations and upbringings differ. This has been useful in that it allows me to actively be involved in Global Feminist efforts rather than simply learning about them in a class.
In what ways does having this internship with the academic component taught from the international perspective of an AU Nairobi professor offer something different from the rest of your AU curriculum?
Having this internship with the academic component allows me to be far more introspective about my time as an intern. It encourages me to check in with myself about how I'm feeling about my experience, allowing me to better process my role as an intern and how I can best aid the women of the FPRJC. While I'm often introspective as a student, it's rare that I immediately get to put what I learn into practice. This internship, along with the academic component taught from an international perspective, allows me to do so routinely. 
How was your AU Nairobi internship placement experience?
My placement experience was wonderful! Elmah Moore set me up with the most ideal organization and facilitated our first meetings, which eased my anxiety and made the beginning stages of getting connected easy. It also helps that Ms. Moore and I were on the same page from the beginning regarding the FPRJC as being the most suitable organization for me. It was a low-stress process, which made me feel less anxious about how the internship as a whole was going to go.
Become Someone Important!
Graduates of the AU Nairobi Center have gone on to become policy makers, diplomats, government officials,lawyers, journalists, researchers, university professors, international business people, and a wide variety of other professionals building on the skills they learned in Nairobi. Who have these alumni become? Read on below.
Randi Saunders
Spring 2012
While studying in Nairobi, Randi Saunders interned with the Moraa New Hope Foundation, where she worked to promote sex education and youth employment programs. As part of her coursework in the program, Randi also conducted original research on HIV outreach programs in the Kibera slums, partnering with Carolina for Kibera and another local organization, KHASIP; she sees this as the beginning of her pursuit of public health work, as well as the beginning of what she hopes will be a research-oriented career. Randi completed her B.A. in International Studies and Sociology in 2014, and is planning to attend graduate school to pursue the public health work she was inspired to undertake in Kenya.
Kedenard Raymond
Fall 2006
The AU Nairobi program was life-changing for Kedenard. "I went to Kenya with the notion that as a black person, I would immediately be able to connect with Kenyans. Instead, they viewed me as an American, and it took some time to build a relationship based on certain commonalities. The entire experience exposed the inaccurate notions of race, ethnicity and identity that I held, and heightened my awareness of my role in the Black Diaspora."
After completing her semester abroad in Nairobi, Kedenard Raymond completed her International Studies degree from AU in 2008. She went on to pursue her Master's in Foreign Service at Georgetown University as a Charles B. Rangel International Affairs Fellow. After completing her Master's, she joined the Foreign Service. Her current posting is in Islamabad, Pakistan, where she holds the position of Deputy Public Affairs Officer for the U.S. Consulate in Peshawar.
David Schneider
Fall 2005
David worked on a food assistance study with the International Food Policy Research Institute and the U.S. Government Accountability Office (GAO) after graduating from AU in 2007. During his six years as an analyst at the GAO, he had a variety of assignments related to a wide-range of domestic and international subjects, including crime victims' rights, Native American issues, terrorism risk assessments, Iran sanctions, UN reform, and international food assistance.
In May 2014 he joined the State Department as a Foreign Service Officer. His first assignment will be in Brazzaville, Republic of the Congo, where he will serve as the political officer.
He looks back on his time in Nairobi as a key experience in his personal and professional journeys. "The AU Nairobi program was structured in a way that allowed for near-constant interaction with local culture, customs, people, and organizations. I learned Kiswahili. I interned at an international organization, and had Kenyan and Ethiopian supervisors. I attended a Kenyan University and made friends from all over Africa and other foreign countries. I was invited to a Somali wedding. I saw amazing wildlife. I was humbled by my interactions with incredibly strong, resilient, and impoverished families. These experiences have helped me in all my interactions since that time."
Ayah Nuriddin
Spring 2008
Ayah Nuriddin graduated in 2009 with a BA in International Studies -International Peace and Conflict Resolution- and History from American University. She studied abroad in Nairobi, Kenya during the height of post-election violence from 2007 presidential elections. Being in Kenya during this significant transitional period made her think critically about the profound effects of history and group identity on contemporary politics, as well as the role of history in shaping transformative justice. In 2014, she earned both a Master of Arts in History and a Masters of Library Science from the University of Maryland, College Park. She is currently a PhD student in the History of Medicine Program at Johns Hopkins University, where she works on the history of eugenics and genetics.
Rachel Voss
Spring 2008
Rachel Voss graduated from American University's School of International Service in 2010 with a focus on the intersections of international development, environmental justice, and food security. During her semester in Kenya, she interned with the Centre for Domestic Training and Development, an organization dedicated to empowering domestic workers and recent urban migrants. The Centre, founded and led by a Kenyan woman, gave Rachel insights into a highly successful, locally-owned development solution as well as the complex challenges surrounding uneven urban/rural development in Africa. After graduating, she worked in the non-profit sector to support development policies and interventions that are more responsive to local communities' needs. She is currently pursuing a Ph.D. in agroecology at the University of California Santa Cruz, researching the agricultural development policies and programs that best serve small farmers and support them in growing food more sustainably.
Miriam Pokharel-Wood
Fall 2007
Miriam graduated from American University in 2009 with a degree in International Studies. While studying with AU Nairobi, Miriam interned at a clinic in Kawengware. Attending births during her semester solidified her interest in maternal health, and she later went on to work as birth doula and lactation counselor through two years of AmeriCorps service. She is now a Certified Lactation Counselor. She will start a Masters in Social Work to be able to provide holistic support for new parents. Miriam is currently living in Nepal, and is able to draw many parallels between working in migrant settlements in both Nairobi and Kathmandu. She still keeps in touch with some of the Nairobi clinic staff she worked with, and hopes to visit Kenya again very soon.
Elizabeth Prevou
Fall 2007
Elizabeth come from a family of medical practitioners; her grandfather is a small-town Midwestern doctor who still trades eggs & fresh corn for visits. Arriving at AU with the intention to study politics, Elizabeth quickly learned that her interest was in people and their experiences. She switched her focus to cultural anthropology and spent a year in Kenya, where she learned a lot about others and about herself. She graduated from American University in 2009. Her ultimate goal was to bridge her love of people with her background in medicine; she completed a dual Masters in Public Health and Health Sciences at George Washington University last year, graduating to practice medicine as a Physician Assistant. She now works in Urgent Care in DC.
While in Kenya, Elizabeth interned with a well-known musician who performed weekly at local clubs and in various Nairobi communities. Through performance and theater, this musician spread the message of health, particularly HIV prevention. Elizabeth used the Swahili she learned in the classroom throughout her internship and her life in Nairobi. Because of this, she had the amazing opportunity to work alongside Kenyans to organize the musician's shows and community-outreach programs. Her time abroad challenged her to become more adaptable, empathetic, assertive and communicative - all qualities that she draws on in her day-to-day interactions with patients.
Matthew Zonis
Spring 2012
Matthew Zonis graduated from American University in 2013 with a Bachelor of Arts in International Studies & Jewish Studies. Inspired by his time in Kenya, following graduation, Matthew moved to Hanoi, Vietnam where he became an English, Math and Global Perspectives teacher at the Wellspring International School. In addition to teaching, Matthew founded the school's "International University Advising Office" and served as its first Director of University Counseling where he counseled students and parents on applying to higher education and gap year programs in the United States, Canada, and Australia. Matthew hopes to pursue an MBA in the future and leverage his experience in the education and environmental sectors by working in the field of Corporate Social Responsibility.
"A famous Swahili proverb sums up my experience best "Kupoteya njia ndiyo kujua njia; To get lost is to learn the way". Being placed completely out of my element and abroad alone for the first time forced me to reevaluate everything about myself. The program's "rural week" has proven to be the most spiritually rejuvenating and personally impactful experience of my life. Even three years later, the way I interact with people, situations, ideas, and concepts can be directly traced back to what I learned in Kenya. Not only did Kenya change me as a person, but it has provided me with wanderlust to explore new countries, cultures and perspectives at looking at the world firsthand. All I ask of others is to have the courage to take the first step...the program will do the rest for you."
Maria Mikanda
Spring 2005
Studying in Kenya her junior year was Maria's first international experience, one that she still references to often even though ten years have passed. Life-changing and eye-opening, Maria's study abroad experience gave her a glimpse into the world at large through her internship as well as everyday experiences riding matatus, attending classes with privileged students from all over East Africa, connecting with the woman she calls her "Maasai mother"and traveling through out Kenya using public transportation.
Maria graduated from American University with a B.A. in Literature. She went on to become a New York City Teaching Fellow, and has spent the last nine years teaching special education in public middle and high schools in New York city. Maria continues to travel the world and teach young people with and with out "disabilities."
Maria is currently finishing up her second masters degree and considering an educational leadership role. She credits her openness towards travel to the fundamentals set during that first week in Nairobi when her program director gave her a tour of all tours, which included sleeping in between "grandmother" and Maasai mother on a cowhide mattress and ascending the hills in the mountainous town of Voi. While Maria has since traveled extensively in Latin America and has returned to the continent of Africa, she looks forward to returning to Kenya in the near future.
Maria is the founder of a lifestyle-fashion blog, Learning Style, and is currently writing her first novel.
Ben Sander
Fall 2005
Ben Sander currently works for National Parks Conservation Association managing a travel program to offer the best in education travel to the National Parks. Ben has experienced and worked in eco-tourism ventures in Costa Rica, Kenya, Tanzania, Peru and Pohnpei, Micronesia which have guided his vision for the travel program. Because of his research in eco-tourism, he has spoken at many conferences related to the subject.
"The AU Nairobi program was the perfect complement to a focus on international development as it provide many opportunities to see first-hand the practices we were learning about in the classroom at American University. My internship in the Kawangware slum is something I often reflect back on as a turning point in my future career path. Being able to interact with people in their homes and on the roads of the slum was a window into a world many do not get to see. The AU Nairobi program had a large influence on my educational and professional path and I feel very fortunate that this opportunity was available to me."
Andreas Karelas
Spring 2005
Andreas is a dedicated renewable energy advocate with over ten years of environmental and renewable energy nonprofit experience. Prior to founding RE-volv Andreas worked with a number of leading organizations including the American Council on Renewable Energy (ACORE), the National Audubon Society, blueEnergy, and the Center for Resource Solutions. Andreas holds a Bachelor's degree in Economics from American University, and two Master's degrees in International Affairs and in Natural Resources and Sustainable Development from American University and Peace University in Costa Rica. He is a 2013 Audubon Toyota TogetherGreen Conservation Leadership Fellow. He also serves on the Steering Committee of the Local Clean Energy Alliance.
"Studying with AU Nairobi changed my life. For the first time I saw how people lived in other parts of the world and it transformed me on a deep personal level. I learned valuable skills of how to organize community events, write grants, and work across cultural barriers, things that I use in my work every day."
Cody Ragonese
Fall 2012
Cody graduated from American University in 2014 with a BA in International Development with focuses in Public Health and Africa. During the fall of this junior year, he studied abroad in Nairobi and interned with Lea Toto. Additionally, he chose to enroll in the University of Minnesota's Intensive Language Program that takes place the month before the AU program begins. This life-changing semester in Kenya confirmed his love for the development field and Africa. Working with Lea Toto offered Cody an opportunity to work hands on with a Children's HIV Clinic in an informal settlement of Nairobi. The following year, Cody led an Alternative Break back to Kenya that explored how urban development affects human rights of Kenyans. With his co-leaders, also an alumnus of the program, he exposed 15 American University students to the injustices in the sectors of transport, health and education. Upon graduation, Cody joined the US Peace Corps in Swaziland, where he is currently serving as a Health Volunteer. His choice to study abroad in Kenya with AU was a great decision that has shaped his life-long commitment to service.
Christine Hooyman
Spring 2009
Christine graduated from AU in 2010, with a B.A. in Globalization and Justice. While in Kenya, Christine interned with Lea Toto, a local organization providing comprehensive care to HIV+ children in Nairobi's informal settlements. This opportunity allowed her to begin to explore the complexities of international aid and development. Christine's semester abroad cemented her commitment to follow a career path in international development. After returning from Kenya, Christine led an Alt Break to Kenya the next year, sharing her passion and interest with Nairobi's urban development amongst her peers. Following graduation, Christine served as a Peace Corps health volunteer in Rwanda. She currently works at Pact in Washington, D.C. as a Program Specialist for East and West Africa, with Kenya being one of the country offices she supports. Since studying abroad, Christine has had the opportunity to travel around Africa, but has yet to find matatus more exciting than Nairobi's.
Sam Sturgis
Academic Year 2012-2013
As a high school senior, Sam Sturgis put AU at the top of his college list when he learned about the AU Nairobi program. It was his dream to study in East Africa. When an admissions officer told him he could study there for an entire year and still graduate on time, his college search ended altogether. He applied to AU early decision.
Sam spent his entire Junior year in Nairobi. There, he interned at an NGO, assisting with their humanitarian programs in Somalia. He spent most weekends blogging about Nairobi, profiling local activists that were leading civil society projects in informal settlements. His blogging ultimately helped him become a journalist. As a correspondent for Next City, a Philadelphia-based news site, Sam wrote about the informal economies of Nairobi, including the city's transportation network and slum-based radio stations. The study abroad experience also enabled Sam to witness Kenya's 2013 presidential election, one of Africa's most important elections in recent years.
"When I enrolled at AU, my aspiration was to study in Kenya and one day pursue a career in journalism," Sam says. "I was so blessed to have been able to accomplish both through the AU Abroad. And it's truly a result of the program's support network. Mwangi Njagi, the Kenya program director, was an unbelievable resource from day one; he encouraged me to explore the city, to write creatively, and to take advantage of living in one of Africa's most vibrant urban hubs."
Sam and his classmates from the Nairobi program keep in close contact today. They often meet at Swahili Village, a Kenyan restaurant located along the Beltway. He currently works for Atlantic Media in Washington, D.C. and is planning to move back to East Africa in the summer of 2015.