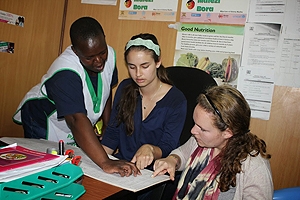 The internship is a core function of AU Nairobi. Students are placed with an organization in Kenya to enhance students' experiences in the traditional classroom setting. This is not a customary internship since each student is both a volunteer as well as an external scholarly observer during your time abroad.
As a philosophy, AU Nairobi does not partner with any of the large international NGOs. In Kenya, we aim to introduce you to small, locally-founded, locally-administrated organizations that positively engage local strategies to solve problems. As such, students have the opportunity to understand the historical and sociopolitical context that necessitated the emergence of these organizations, their relevance to the society, internal and external challenges they face, and other factors that continue to shape them.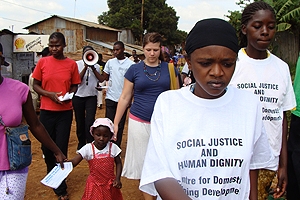 Our partner organizations are selected for their utility to our students' career goals, the students' ability to contribute to them, and their location. These organizations engage in activities ranging from water and sanitation programs, sustainability and environmental health, public health, HIV/Aids campaigns, youth and women empowerment projects, microfinance institutions, arts for social change initiatives, and human rights and justice among others. Because they are generally small and strapped for resources, their staffs may not have the necessary training to run programs. Sometimes their programs may appear to be less structured than those of the more endowed organizations. It is up to the student intern to approach their internship in these organizations with open mind in order to find their place within the structure. Students' role in this position is to learn from these organizations and the people in them, not to "fix" their problems.
Be it one day or many ...
AU Nairobi staff schedule excursions throughout the semester that focus on student academic interests and enjoyment. These vary from short day-long excursions to overnight and week-long trips. Excursions are a good way to help students discover parts of the country not routinely observed through other aspects of each program, and are part of the curriculum. For instance, at least one excursion takes students to a rural location where you live in homestays. While this excursion gives some students the opportunity to compare their urban experience to rural Kenya, AU Nairobi Public Health students do their fieldwork in community diagnosis, but Environment & Human Health students are introduced to one of many aspects of Kenyan rural life before moving to Turkana Basin Institute.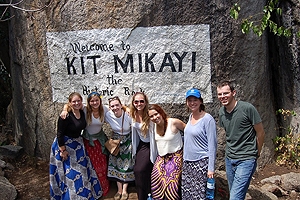 AU Nairobi has taken students to important archaeological sites, historical monuments, wildlife conservancies, creative art centers and environmentally sustainable projects, among other interesting areas within Kenya. The end-of-semester extended excursion allows for reflection, in which students can relax and enjoy while they review their experience of studying and being residents of Kenya.
the Paleolithic sites of Olorgesailie and Kariandusi
Nyumbani Village
ruins of ancient cities at the coast
Kitengela recycled glass factory
African Heritage House
Aberdares National Park
wildlife conservancies of Ol Pejeta and Mpala
Lake Victoria
Mt. Kenya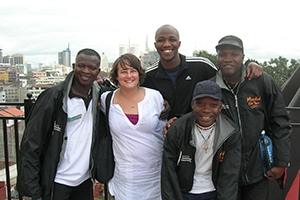 Studying abroad anywhere gets students out of their comfort zone and can provide security challenges as a result. It is up to each individual student to come prepared for anything they might face in their host country, which includes staying healthy as possible and following directives the program provides.
The safety and well-being of our students is our top priority at American University. Our students are provided with an intense orientation in which security is a main topic on arrival, and we require students to attend regular security briefings throughout the semester. The structure and nature of our program allows us to be flexible, nimbly adjusting to circumstances as they change. We continually assess the situation in Nairobi and elsewhere from every perspective and change/enhance our program's security measures as the situation dictates. We meet regularly with personnel at the U.S. Embassy in Nairobi, through singular interactions or to attend security briefings.
The Kenyan authorities have put in place many additional security measures in protecting Kenyan residents. There are police and other security personnel patrolling the streets, manning checkpoints in public places, and inspecting all forms of public transportation.
Our program staff maintain nearly daily contact with our students, and emergency plans are in place should they need to be utilized.
In maintaining this study abroad experience, it is paramount that students follow our policy and rules, even as they change as the situation dictates. Any infraction could be grounds for a student to be sent home. Living in Nairobi and Kenya does come with challenges, but the rewards are tenfold!