American University offers unique scholarship opportunities for students, as described below. Students are also encouraged to research and apply for outside scholarship opportunities, some examples of which are shown on the right side of this page. For cost of living information about Kenya, please view our Money Matters page.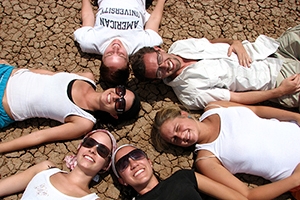 In honor of the 10th anniversary of AU program center in Kenya - Kumi means 10 in Kiswahili - the AU Abroad office is offering need-based scholarships of up to $5,000 per semester for students participating in one of the AU Nairobi programs.
Kenya Kumi Scholarship Eligibility
To be eligible for consideration, you must have a high financial need at the time of application. In addition, you must be an AU degree-seeking undergraduate student and complete a general application to study abroad on either of the following programs: Kenya: Contemporary Issues In Kenya and Africa, Kenya: Public Health in Nairobi, or Kenya: Environment and Human Health. Students who have not studied or traveled abroad in the past are strongly encouraged to apply. These competitive awards are granted on the basis of need and the quality of your application. Scholarships are for only one semester of study. Previous award winners are not eligible. No separate scholarship application is required.
Need-based. AU Abroad awards of up to $3,000 are available for all American University students during the Fall and Spring semesters. In the field of international study, the funds are unprecedented and highlight American University's emphasis on global education. Special consideration will be given to students who plan to study abroad for an entire academic year. The AU Abroad Awards require an application separate from the AU Nairobi application.