Washington Post Internship Humbles, Empowers Karas
By Rachel Karas
June 8, 2012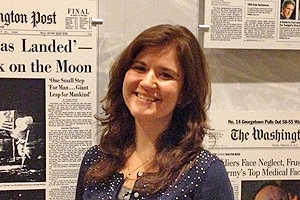 Below is a first person account from Dean's Intern Rachel Karas on her internship at The Washington Post.
One late Tuesday afternoon, I sat on my curb in the middle of Georgetown, staring at the church's doors. Waiting. Again.
I was sweaty and sunburned, running on adrenaline and four hours of sleep. 
I only wanted someone who wouldn't walk away in the middle of my sentence: "Hi, I'm Rachel Karas from The Washington Post, and…" No such luck.
But despite everything, Rachel Karas from the Post was the happiest girl on earth. I was reporting on the D.C. primaries, talking to optimistic Obama supporters and Republicans eager to change the status quo. I was in my element – I was a journalist.
Primary Day is only one of many assignments that have helped shape my perception of what it means to be a professional in the news industry. From telling the story of a Korean War veteran, to profiling non-profits in need, to following the beginnings of medical marijuana in D.C., this is a job that challenges me to grow on a daily basis. The Post makes me a more thorough reporter and a more compelling storyteller, but it also makes me excited to do what I do, and for that I am thankful.
In here, I'm not a student – I am a colleague, learning from and working with some of the best journalists in the world. It's humbling and empowering to work in the same newsroom as those whose bylines have been taped on my walls for years, whose articles have forever been part of my morning routine. Their mastery of English, their passion and their camaraderie are what I aspire to someday attain, and such people give me faith in the future of powerful journalism.
This opportunity is something I've worked for since I first toured the historic building at 15th and L in high school, and to be living it is nothing short of incredible. I can only hope it isn't the last time I'm able to use the introduction that now seems second nature:
"Hi, I'm Rachel Karas from The Washington Post."
The Dean's Internship program pairs SOC's top students with selected partner organizations for semester-long, for-credit internships. The competitive program provides extraordinary opportunities for undergraduates and graduates to have their work featured with named credits and bylines under national brands. Find current opportunities and application information.