Student Life
AU Students to Explore Careers in New York this January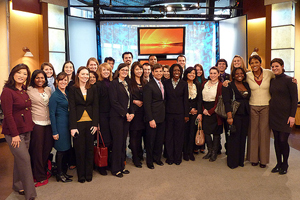 For the ninth consecutive year, high-profile marketing and media companies are opening their doors to AU students eager to intern and work in New York City.
Sponsored by the Career Center, Kogod School of Business, and the School of Communication, the trip grants more than 75 students behind-the-scenes access to leading organizations located in Manhattan. 
This year's hosts include The Associated Press, CBS News, Consulate Film, Discovery Communications, Estée Lauder, Google, Ketchum, and more than a dozen others.
On January 4, 2011, students will gather in NYC and participate in up to six site visits and two evening events over three days.
"It's a 'can't miss' opportunity," says Lara Ferraiolo, trip organizer and assistant director of employer outreach at the Career Center. "Especially since New York recruiters don't often come to D.C., the site visit trip bridges that gap for AU students."
While the trip's primary purpose is to enable students to explore career paths and distinct company cultures, as well as network with industry pros, many past participants effectively used the trip to launch their careers in marketing and media.
A few AU alumni, who credit the NYC trip for their current jobs, suggest this year's participants use the following techniques to achieve their career goals.

Networking
An important part of succeeding in your career, says Ms. Ferraiolo, is being an effective networker. Stay in touch with valuable contacts and demonstrate your professionalism and determination.
Ferraiolo points to Trace Dominguez, SOC/MA '10, as an example of how these attributes can pay off. Mr. Dominguez took full advantage of the Career Center's myriad resources to tirelessly pursue a career with Discovery Communications.
While on the NYC trip, Dominguez actively participated in a site visit at Discovery and struck up a conversation with a recruiter after the large group discussion. But the networking didn't stop there. Dominguez wanted to ensure that the recruiter would remember him, so he attended Discovery's information session on campus a few months later. At the session, Dominguez reintroduced himself to the same recruiter he met in New York, and also stopped by Discovery's table at the AU Job and Internship Fair the next day. After multiple interactions, the Discovery representative recognized Dominguez and knew his interest in the media giant was serious. Shortly thereafter, Dominguez earned a summer internship, which recently led to a full-time job as an online video publisher.
Of course, not every student will have the chance to meet the same representative again in person. Therefore, the Career Center's Ferraiolo urges students to quickly follow up with individuals whom they meet during the trip with either a hand-written thank you note or e-mail in order to stand out in their minds.

Internships
With many students looking to land a full-time job right after graduation, securing an internship to get your foot in the door is an excellent starting point.
Like Dominguez, Cleopatra Andreadis, SOC/BA '06, kick-started her career by pursuing "several fantastic internships" at the ABC Network that she learned of through the NYC trip.
Prepared with a polished resume and sense of purpose, Ms. Andreadis made a positive impression on the team at "Good Morning America" (GMA). Not long after the trip, she got a call back and excitedly accepted a summer internship with the show. She interned with GMA during the summers before her junior and senior years of college, and at ABC's Washington bureau during the school year. She is now a producer for GMA.
"[The trip] helped solidify what I wanted to do, and who I wanted to be," says Andreadis.

Persistence
Stephanie Brinson, SOC/MA '09, visited Consulate Film during the NYC trip in 2008. There, she met Chad Sipkin, SOC/BA '83, owner of Consulate and an AU alumnus. Later that spring, Brinson reconnected with Sipkin through SOC's mentorship program and became familiar with the company and his work as an editor.
Brinson immediately fell in love with the film editing company and was determined to work for Consulate one way or another. At the time, Consulate did not have openings, but Brinson stayed in contact with Sipkin and ultimately joined the company one year later.

Humility
Students who hope to work for high-profile organizations face fierce competition for jobs, especially in a tight economy.
When Brinson first joined Consulate, she performed entry-level duties for a few months before earning a promotion to editorial assistant.
"Don't be afraid by the fact that you may have to work your way up," says Brinson. "You might be a desk receptionist at first... but the big shots now likely started where you are today."

More about the Trip
Past participants who landed internships and jobs, says Ferraiolo, were the ones who networked, exchanged business cards, and followed up with alumni and employers upon returning home. "However," she says, "The trip can be a huge success even if it does not lead to a new position."
For many students, the trip helps them to clarify their academic and professional interests, gain a sense of what everyday life is like in NYC, and build relationships with AU alumni in the New York area.