First Person
Internship Focused on Workers Rights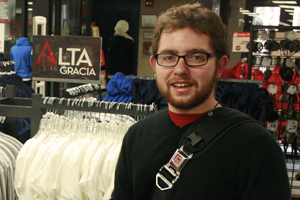 Last spring, I interned at Fenton Communications, the leading communications and media outreach firm working for progressive and other public interest causes. While working at Fenton, I exclusively did work around Alta Gracia. Alta Gracia is the first and only factory in the world producing collegiate apparel where the workers are paid a living wage and are part of a union that negotiates freely with factory management.

Alta Gracia is a project of Knights Apparel, the largest collegiate apparel producer in the world.  It is the result of years of organizing between students based in the US and workers of the former BJ&B factory in Villa Alta Gracia in the Dominican Republic. The factory opened in the spring of 2010 and is subject to unrestricted and unannounced monitoring by the Workers Rights Consortium, a labor rights watchdog agency.

At Fenton, I had the opportunity to make a difference in the lives of the workers of Alta Gracia. In order for Alta Gracia to remain a sustainable business model, it needs to garner the support of students nationwide. I did outreach to student newspapers about Alta Gracia and reached out to student groups across the country to let them know why Alta Gracia is so revolutionary and what others can do to get involved.

A standard workweek at Alta Gracia allows workers to feed their families, send their children to school, and improve their living conditions. Workers at Alta Gracia make $2.83 an hour, more than three times the Dominican living wage of 84 cents an hour. While this may not seem like much to Americans, it is a very substantial amount of money in the Dominican Republic.

Alta Gracia represents a new standard in the apparel industry. For years, apparel executives have been telling student anti-sweatshop activists that sweatshops must exist for companies to stay viable. However, Alta Gracia shows that companies can afford to pay a living wage to its workers and still be operable. Since the factory opened, the community of Villa Alta Gracia has been revitalized. Construction has picked up as workers improve their houses, and formerly struggling shops are now thriving as workers no longer have to buy food on credit.

I come from a background as a labor rights activist, and pursuing Women's, Gender, and Sexuality Studies as a minor further generated my interest in working with Alta Gracia. Looking at the world economy, women, and especially women of color, are incredibly marginalized. The apparel industry, which mostly employs women in the developing world, is a great example of this marginalization. In many factories, women are physically and emotionally abused by their bosses, who routinely deny them their basic rights as workers, as women, and as human beings.

That is why Alta Gracia is so significant. Workers, who now play an active role in factory management through their union for the first time in their lives, are able to sustain their families without having to endure any abuse. The model of Alta Gracia has the potential to change the entire apparel industry from the inside out. Student power is at a high point in the fight against sweatshops, and there is the momentum to use the example of Alta Gracia to create a lasting change for workers worldwide.