Achievements
Going Green with a Biodiesel Internship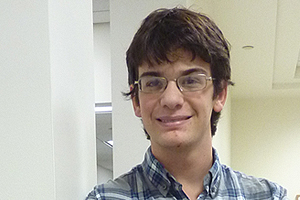 Sometimes, luck favors the prepared student. Dan Pungello, BSBA '15, discovered this firsthand when he began looking for an internship.
When sitting down with the Kogod Center for Career Development at the start of the semester, the North Carolina native and freshman student was just looking for a head start. Instead, he got a direct connection to a dream internship.
"One of the main reasons I decided to come to AU was the internships. The university is number one in that area, and that's huge," Pungello said. "It's a really valuable experience, especially in this job market."
This fall, Pungello began an internship at Storm Oil, a biodiesel fuel company based in Rockville, Maryland—an opportunity that allowed him to combine his interests in green technology and entrepreneurship.
A small but growing business, Storm Oil collects materials that can be made into biodiesel and processes those materials into fuel.

"To me, biodiesel is one of the best solutions for going green. It's something that—unlike electricity—can take existing material and repurpose it for fuel," Pungello explained. Clean burning, biodiesel is a vegetable oil- or animal fat-based fuel.
His commitment to sustainability stretches into his personal life as well; his own vehicle runs on biodiesel. "Almost everything can be converted, and used to run cars, trucks, or anything gas-powered."
A Little Bit of Everything
Though he's still finding his way around Storm Oil, his experience has already been multi-dimensional.
"I do whatever they need me to do. They are just so busy, and there's so much to do around the office," he said. "Sometimes it's technology-related stuff, since I have experience in that. Other times I make use of my business education. It's always different."
Pungello is already committed to continuing his internship through both spring and summer of 2012.
"It's been a really good experience. I've learned a lot about what it takes to run a new business day-to-day," he said. "I've seen the growing pains, and how Storm Oil manages them. I'm seeing all of the classroom theory applied, in a really hands-on way."
He offered the following advice to fellow classmates: "Keep looking on your own for things that fit in your interests, but go to the KCCD to get help. Take advantage of their network."