White House Caps String of Internships for Selak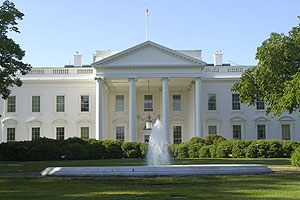 Dawn Selak, SOC/BA '10, had a busy college career. While pursuing a Public Communication major and Political Science/International Studies minor, she held internships with the Office of Congressman Charlie Wilson (OH-06), Democratic National Committee, Berenson Communications, the Ohio Democratic Party and the U.S. Justice Department. She also found time to study aboard in Rome, Italy, and was a member of on the AU Club Gymnastics team throughout college.
She capped off her time at AU working in the White House as an Intern to Senior Advisor David Axelrod and a Press Intern. She also excelled in her studies, and was one of a team of students awarded Best Undergraduate Research Paper at the 2010 Public Communication Division Awards. We asked Selak a few questions about her internship, and what she's off to now that she's got her degree.


Q: How did you land such a sought-after position as an undergraduate?
A: I think it was a lot of hard work and a lot of luck. I've had several other internships that prepared me for my internship at the White House, but I still didn't expect that to be offered the internship. To this day, I am just thrilled that I was fortunate enough to have been a White House intern.
Q: What is an average day like?
A: An average day is very hectic, but fun at the same time. I got into the office around 7:30 every morning to pull clips and I would spend the rest of my day performing a variety of tasks, including directing reporters' phone calls, organizing interview requests and helping with press events.
Q: How did SOC help to prepare you for your duties?
A: My SOC classes taught me the basics that I needed to know for my internship. Many of my classes included discussions about the relationship between reporters and public relations professionals, which was very important to understand.
Q: What have you learned on the job?
A: During my internship, I got to see how the White House prepared for the State of the Union address, the passage of healthcare reform and the nomination of a Supreme Court justice. All of those provided me with the unique experience of witnessing various events that are an important part of any presidency and seeing how the Press Office dealt with them. The most important thing I learned during my internship was how to work in an incredibly fast-paced environment. There were often many things going on at once, and being able to juggle several different tasks simultaneously was crucial.
Q: Please share a few of your most exciting/funny/rewarding moments at the White House.
A: Volunteering at the Easter Egg Roll was exciting and rewarding at the same time. It was fascinating to see how the largest annual public event at the White House works from behind the scenes, and it was great to see all of the children and their parents having fun. 
Q: How did you juggle a 50-hour work week with your school work? 
A: Generally, I tried to finish my homework on the weekends so I could come home from work during the week and relax, instead of having to do homework, but that didn't always work. Mostly, I just tried to work ahead on my school work, so I was never panicking at the last minute about an assignment.
Q: What led you to go into Public Communication?
A: I first became interested in journalism in high school, where I wrote stories about a variety of topics and was the News Editor for two years. When I got to college, I decided that, while I was really interested in communications, I would rather pursue a career in Public Communication, and specifically in Political Communication.
Q: What's next for you?
A: Right now, I'm working as the Executive Assistant to the Coordinated Campaign for the Ohio Democratic Party. I'm originally from Ohio, so after graduation, I decided that I wanted to come home and help keep Ohio blue.