Students Discuss Work/Life Balance
By Michael Wargo
September 7, 2012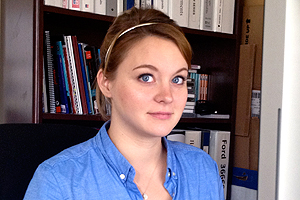 With the start of the school year, many students are juggling studies, extracurricular activities, social lives, and even an internship or two. At the School of Communication's academic centers, several students balance their working with the School of Communication's Academic Centers with their schoolwork.
Katie Bieze, a student in the M.A. in Film & Video program, is a graduate assistant working for the Center for Social Media. She says it can be challenging balancing classes with her work at CSM, but having been a varsity athlete as an undergrad, she's become used to balancing other commitments with a full course load.
"Sometimes I think having that multiple commitments actually makes me more efficient," she said. "Of course, it also has helped that my supervisors have been understanding any time I needed to move around hours if something came up for a class."
Alissa Scheller worked with the Investigative Reporting Workshop as graphics/photo intern during her senior year. The recent graduate in print journalism is no stranger to school/work balance. Throughout her time at AU, she worked a number of on-campus jobs, including a print designer for Kogod's marketing efforts and in the HR department working on internal promotions.
"It did get really hard at times, especially the last semester, to juggle school and work," said Scheller. "I always used my time between classes to get assignments done – mainly reading, which there was a lot of for art history."
Two things Scheller could not get by without were her to-do list and weekly planner. "If I ever lost it, I would not know what to do with myself."
Graduate student Corey Smith balances his school time with work at J-Lab, designing booklets and brochures, learning how to run the website, and managing their social media platforms. The International Media student says that managing his coursework, an internship, and the J-Lab position at the same time was sometimes be difficult.
"I think that the key was having J-Lab be flexible with my hours," he said. "I would stay late if I had to accomplish something for class earlier in the day, and they were always fine with that."
Smith offered a few tips for organization for other students balancing school and work.
Make lists in chronological order
Keep work and studies on separate thought tracks
During finals, take advantage of the 24-hour library and late-night coffee
"Seriously, it's certainly helped me get through the more turbulent papers," said Smith.