Internships
89 Percent of Kogod Undergrads Held Internships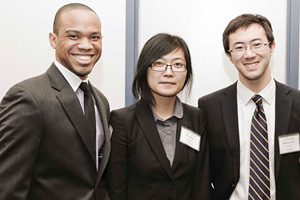 Eli Engelbourg started working at the Federal Deposit Insurance Corporation (FDIC) as a summer intern after his junior year. When the summer ended, he stayed on part-time. And by the time he graduated, Engelbourg, BSBA '11, had earned a full-time job; he's now an assessment specialist in the FDIC's Division of Finance.
Engelbourg isn't the only Kogod student to turn an internship into an enduring job. Jessica Rybka, BSBA '11, is a project manager at FedScoop, a media company specializing in government IT where she interned as an undergraduate.
Their experiences are impressive, but these recent alumni are not alone. Eighty-nine percent of Kogod's undergraduate Class of 2011 completed an internship—five percentage points above Kogod's Class of 2010, which boasted an 84 percent rate. 
The latter rate was on par with the American University-wide figures last year, which resulted in AU being named first in the country for internships by US News and World Report.
Both statistics soar above the national average. According to the National Association of Colleges and Employers, 51.9 percent of graduates had an internship or co-op experience, as of 2009.
"One of the reasons our internship numbers are so high is due to Kogod's location in Washington, D.C.," explained Arlene Hill, director of career services in the Kogod Center for Career Development (KCCD). "Our students can easily complete an internship during the academic year, in addition to summer breaks."
Landing a Job
Twenty eight percent of Kogod students converted those internships into a full-time position, like Engelbourg. And students who interned had, on average, two positions.
Both Engelbourg and Rybka held multiple internships, at the U.S. Capitol Historical Society, RBC Wealth Management, and the not-for-profit FirstBook. Classmate Alex Priest, BSBA '11, held five internships during his four years on campus.
"The FDIC internship gave me real world experience that furthered my education outside the classroom," Engelbourg said. "Also, it helped me establish a professional network in the DC area."
"Kogod prepared me to be an intern; being an intern prepared me to be a professional," said Nate Politi, BSBA '11, now at RedPeg Marketing. Politi interned there in summer 2011 before going full-time, one of his three total internships. 
"It allowed me to realize what I wanted to pursue professionally while I still had the chance to focus on it academically."
Students with an entrepreneurship specialization stood out with 2.3 internships completed on average; management students had the highest conversion rate, with 73 percent successfully turning an internship into a permanent offer.
All this insight is made possible, Hill said, thanks to students' help with data capture. They are encouraged to report their internships to the KCCD through the CareerSource system, at the Center's front desk or during a career advising appointment.