Internships
Healing through Faith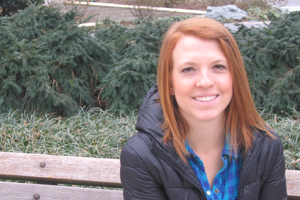 An unexpected trip to the hospital can be stressful for all involved. Lauren Moore, BA religious studies and philosophy '12, wants to help ease the burden—she plans to become a pastoral counselor, a therapist who integrates psychology and faith. "I think a lot of people have a spiritual side or want to talk about those bigger issues of meaning, and they want someone who's going to recognize that part of them," says Moore.
This semester, Moore is interning in the pastoral counseling division at Children's National Medical Center in DC, generally in the neurology or general surgery wards. "They've given me a lot of responsibility," she says. "I can go into people's rooms and introduce myself. I tell them I'm a chaplain and ask them how they're doing. A lot of it is just being there for people, just letting them know that someone's thinking about them and listening to them if they have questions."
While families wait for news from doctors, Moore can offer some solace. "I've caught some people when they're pretty uncomfortable, and they just want to pray," she says. "There's nothing that they feel they can do except wait for the doctors, so they're giving it up to a higher power and hoping that something comes of it."
When kids get sick, it can be scary, she says. "If families have any questions or if they have any big issues with faith or questions of meaning, I can offer them support or resources. A lot of times, I'll pray with them and let them know that we're thinking about them and that we're around."
Because Moore is still new, she's just beginning to build relationships with patients and their families. "It's nice that there's someone watching out for them or thinking about them, because it can be lonely," she says. "Some people come from far away, so to have a person there that knows their name is nice."
Occasionally, she has visited the neonatal intensive care unit or the hematology and oncology ward, where families may not be able to look forward to a clean bill of health. "We're getting to know those families, and then sometimes children die," says Moore. "That's really hard, but I think it's really important to be there for them."
Moore was inspired to give pastoral counseling a try after the two semesters she spent as an intern at the National Multiple Sclerosis Society, especially when she worked for them full-time last summer. "There was a lot of crisis counseling, and that could be very difficult," she explains. "But over the summer, my job turned into a lot more direct client care, which I loved."
All of the pastoral counselors at the hospital have their master's in divinity (MDiv). Some pastoral counselors become Licensed Clinical Social Workers (LCSWs) and then weave in a spiritual aspect to their practices. Others become LCSWs and get their MDiv.
In the fall, Moore will pursue her master's in counseling studies at the University of Edinburgh in Scotland. Eventually, she thinks she wants to get her master's in social work. Whatever the path she chooses, what is most important to her is helping people on a personal level. "I'm not so much interested in the macro life-changing route," she says. "I want to help people on an individual basis. That can be what social work does—working with people and bettering their situation."
And tying in religion with counseling is second nature to her. "My faith is important to me," says Moore, "so if I was going to be counseled by someone, I couldn't leave that out of what's going on in my life."