Sunlight Foundation Lets Intern Try a Different Kind of Journalism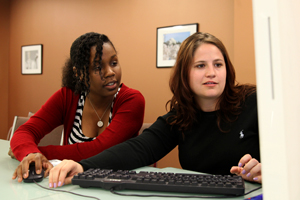 Below is a first person account from Dean's Intern Breanna Edwards on her internship at the Sunlight Foundation.
At Sunlight Foundation we do a different kind of journalism.
It's not always the most glamorous of endeavors but it is certainly a very important one. We aim to shine light on every little government action. As is often quipped around the office, "Sunlight is said to be the best of disinfectants."
On any given day at the Sunlight Foundation I am pouring over invites to congressional, senatorial and presidential fundraisers and entering them into our database. It is all part of Sunlight's mission to obtain maximum government transparency. We want to make sure that the public knows how, where and when the candidates get their funds. Every week I am filing regular blog posts to make sure that everyone is aware of the upcoming events for candidates of particular interest.
And that is only the beginning. Almost every week I'll be pulled into project a team member is working on to help with the intense research and reporting that goes into the pieces. A lot, if not all, of Sunlight's work is data and research driven and thus requires an intense amount of work to bring to fruition.
Thanks to Sunlight I know much more about journalistic research, data gathering and compilation. I have had the privilege of working with some of the most brilliant reporters and researchers I've ever had the pleasure of meeting. I also know more about the House of Representatives, the Senate, PACs, super PACs and government fundraisers than is probably healthy.
It's not an experience many young journalists have, nor do I particularly think it's an experience many young journalists understand the benefit of having. As I said, it's not always glamorous but, in my own small way I help hold our government accountable and of that I am immensely proud.
The Dean's Internship program pairs SOC's top students with selected partner organizations for semester-long, for-credit internships. The competitive program provides extraordinary opportunities for undergraduates and graduates to have their work featured with named credits and bylines under national brands. Find current opportunities and application information.