Achievements
Two Students Named Rhodes Finalists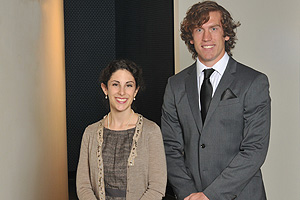 American University is delighted to announce that two students, Matt Makowski and Lauren Barr, were named 2011 Finalists for the Rhodes Scholarship.  

Matt, BS/CAS '12, and Lauren, MA/SIS '12, were selected as AU's two nominees for the Rhodes scholarship from a potential field of nearly thirty outstanding student leaders. They were chosen based on their passionate defense of their studies, the range of their intellectual interests, and their leadership qualities. Approximately 800 students were nominated in one of 16 districts nationwide, and up to 16 finalists were chosen for each district.

Two Rhodes Scholars were chosen from each district.  Lauren and Matt remain district finalists.  

Matt is the goalie and captain for the AU men's soccer team and a two-time winner of the Patriot League Scholar-Athlete of the Year. In 2010, he was honored as one of AU's "Outstanding Honors Juniors" for his academic success. During the summer of 2011, Makowski received a nationally competitive research internship at the Penn State College of Medicine in Hershey, Pennsylvania, where he worked in the Division of Infectious Diseases. Last fall, Matt served as a teaching assistant for an Introduction to Public Health course and is working on his Capstone project under the supervision of Professor David Carlini, Chair of the Department of Biology. In spring 2011, Matt presented his creative work involving a reinterpretation of the Norse myth of Odin into modern language at the CAS student research conference. His long-term goal is to pursue a doctorate in computational biology and a career in biomedical research.

Lauren Barr graduated from AU summa cum laude in May, 2011, with majors in International Relations and Economics and a minor in Arabic. She will complete an MA in International Peace and Conflict Resolution in August, 2012. Lauren is a two-time Critical Language Scholarship recipient for advanced Arabic and a Truman Scholarship finalist. As an undergraduate, Lauren developed and led two alternative breaks to Israel and the West Bank and pioneered AU's chapter of the OneVoice Movement. This fall, Lauren will work as a research assistant for New York Times correspondent David Sanger at the U.S. Institute for Peace. She currently serves as a research associate for the Public International Law and Policy Program. Lauren was also selected to participate in a seminar program about the UN as a United Nations Association of the Capital Area Graduate Fellow. Her long-term goal is to work in the area of conflict resolution.

We are grateful to the many AU faculty members who served as mentors, participated in mock interview panels, and provided letters of recommendation. Faculty from CAS include Profs. Lynne Arneson, Richard Breitman, Ivy Broder, David Carlini, Vikki Connaughton, David Culver, Bob Feinberg, Maria Floro, Phil Johnson, David Keplinger, Keith Leonard, Jonathan Loesberg, Eric Lohr, Randa Serhan, Richard Sha, U.J. Sofia, Michael Wenthe, and Paul Winters. Faculty from SIS include Profs. Mohammed Abu-Nimer, Akbar Ahmed, Michelle Egan, Ronald Fisher, Pek Heng, Paul Williams, Patrick Jackson, Linda Lubrano, Robert Pastor, Anthony Quainton, Vidya Samarsinghe, and Anthony Wanis-St. John. Faculty from SPA include Profs. Bill Davies, Kimberly Cowell-Myers, Daniel Dreisbach, and Meg Weekes. Additional support was provided by Athena Argyropoulus and Bob Karch (athletics), Michael Manson (Honors), Prof. Erran Carmel (Kogod), and Prof. Declan Fahy (SOC).