Achievements
American University Recognized As One Of The Greenest And "Coolest" Schools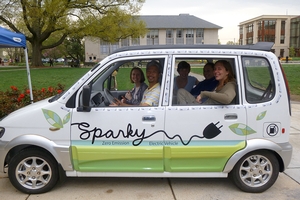 American University's commitment to sustainability has garnered national accolades once again. The university's dedication to environmentally-friendly practices has earned it a place in The Princeton Review's seventh annual "Green Ratings" and in Sierra magazine's "Coolest Schools" list.
For the fourth consecutive year, AU attained the highest possible score on the "Green Rating's" scale of 60 to 99. Of the 861 institutions tallied for their environmental practices, policies, and academic offerings, only 24 received the highest possible score. In recognizing AU's efforts and achievements, The Princeton Review bestowed particular praise to the university's series of practical steps to equip its students in the pursuit of sustainability. AU also drew praise for being a signatory of both ACUPCC and the Talloires Declaration; its status as a STARS Charter member; the Green Teaching Certification Program; the LEED Volume Existing Building certification project; and for having the largest solar energy system in DC after the installation of more than 2,150 solar photovoltaic panels and more than 200 solar thermal panels on eleven buildings on campus.
"These honors serve as reminders that we need to continue doing what it takes to earn them," observed Chris O'Brien, AU's Director of Sustainability.
AU placed second in Sierra's eighth annual ranking of America's greenest colleges which spotlighted the university's deep commitment to protecting the environment, addressing climate issues, and encouraging environmental responsibility. AU vaulted to the second-place ranking after placing ninth last year in a field of more than 150 competing schools. Echoing The Princeton Review, Sierra also cited AU's solar photovoltaic panels as well as the student-led Adopt-A-Tree program and divestment movement as reasons for its improved ranking.
The Princeton Review is a leading test preparation and college admission services company. Additionally, it helps college- and graduate school-bound students achieve their education and career goals by ranking schools on the basis of various criteria, including their green efforts.
Sierra is the official publication of the Sierra Club, America's largest and most influential grassroots environmental organization, with more than 2.4 million members and supporters nationwide. The Sierra Club works to safeguard the health of communities, protect wildlife, and preserve remaining wild places through grassroots activism, public education, lobbying, and litigation. For more information, go to www.sierramagazine.com.