International
Living the Arabic Language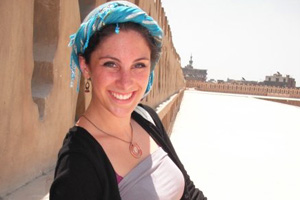 Every day, Lauren Barr, SIS/CAS '11, walks the Corniche, the winding road that stretches across the coastline of the Mediterranean Sea. On the way, she often buys ful, a traditional Egyptian bean dish, or falafel, fresh juices, fruit, and ice cream. Some weekends, she plans to visit friends in Cairo and has already visited a beach in the city of Agami and a desert village called Siwa.
Barr may be living the good life, but the international studies and economics double major isn't technically on vacation. She is spending her summer in Alexandria, Egypt, at an intensive Arabic language and cultural enrichment institute, with the help of an all-expenses-paid Critical Language Scholarship from the U.S. State Department. The CLS institutes are part of a federal effort to increase the number of Americans mastering critical need languages, such as Arabic, Chinese, and Farsi.
So far, Barr has been in Alexandria for roughly half of the two-month program. Previously, she completed 6 semesters of Arabic language—including an independent Arabic study and a topics course—at AU, and studied the language in Cairo with another CLS scholarship last year. "I love Arabic, but to learn it well takes a great deal of time and discipline," says Barr. "It's not just words on a page, but is encompassing of culture and history and people. Being in Egypt while studying Arabic allows me to live the language instead of just study it."
Every day, Barr and her fellow participants spend four hours in the classroom, half an hour with a speaking partner, and several hours doing homework and consulting with private tutors or professors. At night, the group partakes in cultural enrichment activities: watching Arabic films; exploring the city with Egyptian peers and practicing Arabic by asking locals for directions; or breaking out in clubs, such as Arabic calligraphy, dancing, or cooking.
The goal of the CLS Program in Alexandria is to enable program participants to gain advanced Arabic proficiency; the two intensive months are equivalent to a year's worth of university study. Barr is learning both Modern Standard Arabic (MSA)—the formal style of Arabic that is known across the contemporary Arabic world—and the Egyptian dialect. The language is complicated, with a completely different grammatical structure than English. To assist in the learning process, the classes use a variety of teaching tools. Computer programs, such as Aktub and iVocab, teach Arabic typing and vocabulary and voice recorders are handed out for students to record themselves speaking.
"Arabic is hard," says Barr, "but being here makes me realize that it's definitely possible to learn. Just being able to talk with people on the street—who are generally ecstatic if you even speak a word of Arabic to them—is very encouraging."
In the fall, Barr will study abroad in Rabat, Morocco, where she will continue her study of MSA and take classes in Morocco's unique Arabic dialect. At AU, she led two Alternative Break trips to Israel and Palestine and spearheaded the AU chapter of OneVoice, an international grassroots movement that seeks to help resolve the Israeli-Palestinian conflict.