Internships
AU Nabs Top Ranking for Internships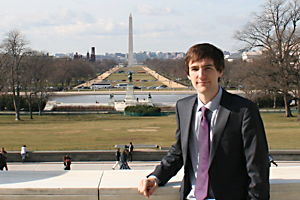 American University (AU) tops the chart for undergraduate internships, according to the latest rankings by U.S. News & World Report.

On average, 38 percent of graduates from the 416 schools that provided data to U.S. News participated in internships as undergraduate students. With 85 percent of 2010 graduates having held at least one internship, AU far surpassed the other institutions surveyed.

"AU has always been a leader in both the number of interns and the enthusiasm our students have for internships," says Katherine Stahl, executive director of the Career Center.

The availability of world-class institutions, the federal government, and respected organizations with which to intern in Washington, D.C., is a prime reason that undergraduates—and increasingly graduate students—choose AU.

"Our students want to study hard, while also applying what they have learned to real-world situations," says Stahl.

The Career Center and Kogod Center for Career Development are committed to helping students engage with the world and understand it and themselves better through internships. Faculty members across departments also believe that internships are a key component of the AU experience and provide invaluable guidance to students.

So, do internships really matter? Absolutely.

"They increase the likelihood that a student will find full-time employment before or soon after graduation, and that the salary offer will be higher than for others who have not interned," says Dr. Francine Blume, director of experiential education at the Career Center.

In this economy, students are keenly aware of the value of internships. Most do multiple internships while at AU, assuming progressively challenging positions as they advance through school.

Internship experience can also lead to more than a job after graduation, as Paula Warrick, director of the Office of Merit Awards, knows.

"There is a clear link between AU's internship culture and our students' success in national scholarship competitions," says Warrick. For the past several years, AU students have consistently earned Boren, Truman, and Udall scholarships by demonstrating their commitment to careers in national security, public service, and environmental policy, respectively.

Check out the Career Center's internship maps and intern blog to learn about the various positions students have recently held, and what they have gained from their experiences. Then tell us on Facebook where you have interned while at AU.