Alumni Success Story
Recent Alumnus Shares Tips for Landing a Job Before Graduation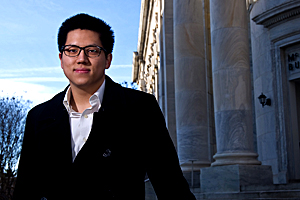 Before graduating last December, Eric Sohn had already secured a job as an international trade specialist with the U.S. Department of Commerce. Now Sohn, who double majored in international studies and economics, offers advice on how to gain a competitive edge in today's job market.

During his time at AU, Sohn was awarded a grant to study abroad in South Korea by the Benjamin A. Gilman International Scholarship Program and served as a fellow in the University of Michigan's Public Policy and International Affairs Program. He also gained professional connections and applicable skills while interning with the Korean Embassy, the Department of Homeland Security, the Korean Institute for International Economic Policy, and through his work with AU's Center for Asian Studies.

These myriad experiences outside the classroom made him stand out to employers, says Sohn. Now he urges current students not to wait until their last year or two to go after the internships that can set them on their career paths.

"Underclassmen can best prepare themselves for a career right out of college by planning ahead," says Sohn. "If you're not looking for internships and fellowships until your junior or senior years, then you're already kind of late."

But he was careful to pace himself, never taking on more than he could handle while a full-time student.

"I'm a very step-by-step kind of person," says Sohn. By going after one or two career-building opportunities each year, he developed his resume and skill set with a clear focus on his end goal of working in international relations after graduation.

With his study abroad and internship experiences, Sohn was a perfect candidate for the position within the Department of Commerce's Office of Japan and Korea. There, he assists American firms encountering trade and investment barriers in Eastern Asia, and works to ensure that they fully meet their obligations under various trade agreements.

Reflecting back on the experiences that prepared him for his new position, Sohn is quick to credit his merit awards and career advisors for alerting him to opportunities and assisting him in preparing applications.

"If I hadn't found the Office of Merit Awards and Career Center at the start of my sophomore year, I wouldn't have been exposed to all of the fellowships that have prepared me for a great career," he says.

In addition to regularly seeking guidance from advisors, Sohn urges students to supplement their good grades in school with internships, jobs, and fellowships.

"Don't focus entirely on academics. You need a combination of both academic success and professional experience" to appeal to employers, he says.