Student Success Story
Boren Scholar Prepares for Foreign Service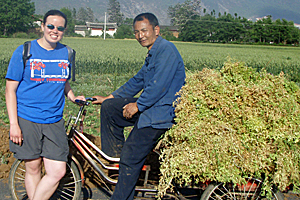 Immersing herself for a year in the language and culture of China didn't change Katie Suplick '10, but it definitely altered her perspective.
"I have a much better sense of how a quarter of the world's population lives," said the School of International Service student.

Suplick earned a $20,000 David L. Boren Undergraduate Scholarship to study in Beijing during the 2007-08 academic year.
While abroad, she took language and politics classes, landed an internship with CNN, and traveled extensively, visiting Tibet and rural areas of China.
Her burgeoning language skills were tested when a massive earthquake hit the country on May 12, 2008 as she was traveling in China with visiting family.
"I have a level of comfort… so I didn't need to go places with a Chinese person," but when chaos reigned, she needed to secure plane tickets out of the region for her relatives. "After struggling with the airline for two hours, I somehow managed to get my family out of there," she recalls.
Before heading to China, Suplick envisioned herself in a U.S. Foreign Service career or a staff position with a foreign policy focus on Capitol Hill. The year abroad both strengthened her commitment and prepared her to reach her goals, she said.
"I learned so much about different customs—so many cultural things you just have to get used to. I feel much more prepared to live in another culture in the future."