Student Success Story
Two-Time National Scholar Shares Secrets to Success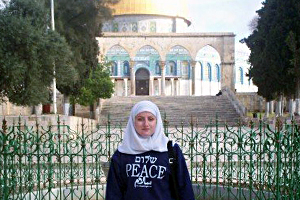 Nawal Mustafa '08 grew up in Kansas City, where she keenly felt her multi-cultural identity. As an American teenager and a Palestinian Muslim, she had a curious academic mind that drew her to AU. By her sophomore year, she knew that she wanted to become a scholar with a focus on the Middle East. 
However, the School of International Service student knew very little Arabic. 
"It's a very difficult language," she says. "You can't really learn it in a classroom. You have to go abroad and understand cultural nuances."
So she set out to make the Middle East her classroom – first in Egypt for nine months of language study, and then in wealthier and more conservative Oman to learn about different aspects of the Middle East. 
Both times, she won scholarships: a Boren Fellowship to Egypt and a Critical Language Scholarship funded by the U.S. State Department to Oman.
Mustafa is now applying to graduate programs with a stronger resume and deep knowledge base. She shares her wisdom about making the most of studying abroad and being at AU:   

How should one decide where to study abroad? 
Think about your aims. What language do you want to learn? What courses do you want to take? Do you want a challenging cultural experience that will force you to question your own assumptions? If so, you might want to think beyond Europe. But mainly, it's about your goals.

What advice do you have for getting the most out of an international experience?
Culture shock is a real phenomenon; people underestimate it. It can take up to a few months to really get past it, so if you're only there for a semester, you have to leave just as you're getting adjusted. If you can be there longer, it's worth it.

What tips can you share to successfully compete for national scholarships?

Well-written essays are key. I noticed that people who received the Critical Language Scholarship from the State Department clearly articulated their interest in the award and how they planned to use it.

What advice do you have for making the most of your time at AU?
Get to know your faculty as soon as possible. Identify faculty who share your interests, talk with them outside of class, and be sure to stay in touch with them.