Student Success Story
Truman and Cooke Scholar Hones Management Skills at SPA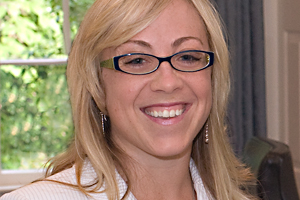 Christina Arnold had helped street children in Thailand, spoken at embassies, and been invited to the White House—much of it while a student at AU.
What she didn't have was money for graduate school. And she knew that, if she wanted to make a lasting difference, she needed more skills.
So Arnold, SPA/BA '04, entered a national competition for the Jack Kent Cooke Graduate Foundation Fellowship. The award: a mind-boggling $300,000. The number of applicants: nearly 1,000 people, the cream of the university-nominated crop from around the nation.
It was a long shot, but a lot of what Arnold has achieved seemed like a long shot.
She came to AU as a transfer student from a community college, not entirely sure how she'd pay for it all, let alone realize her dream of making a difference for women and children caught in the underworld of human trafficking.

Arnold had seen trafficked children on a Sri Lankan beach when she was just a child herself, and the image stayed with her. It led her to found a nonprofit, now called Prevent Human Trafficking, that was one of the first in the United States to draw attention to the millions of impoverished women and children who are trapped in the sex industry because they were kidnapped, deceived, or exploited.
She immediately impressed her professors. One contact led to another, until Arnold was an expert grant writer and scholarship winner—in 2003, she received a Harry S. Truman scholarship for public service—while her work to help trafficking victims led to an invitation to the White House.
Training embassy officials and speaking internationally became something she juggled along with her work running Prevent Human Trafficking, whose projects include a home for street children in Thailand.
But success meant a flood of volunteers, media attention, and donations. There were management issues to understand, and legal issues as well, particularly if she wanted to make a difference in laws related to human trafficking.

Arnold realized she needed to go back to school. But how?

The scholarship committee had the answer: she was just the kind of applicant they were seeking. She won the $300,000 award for graduate study. Now, as she returns to AU to earn a master's in public administration from AU's School of Public Affairs, she's on a path to become a real force in the nonprofit world.