Student Success Story
Cultural Fellow Explores Central American Conflicts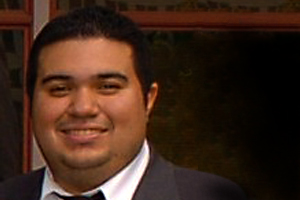 Most students report to their professors. Michael Aguilar '08 reported to the First Lady of the United States.
Aguilar was one of three students to receive the Laura W. Bush Traveling Fellowship in the summer of 2008 to conduct a brief fact-finding project overseas.
During his month-long trip to Central America, the School of International Service graduate student examined the role of culture in conflict resolution. 
He later shared his findings at a White House meeting.
"She gave us about 20 minutes each," he says of his meeting with the then-first lady. "That was an honor. I was surprised to see how often she traveled. She'd gone to the places I went to. We had a good conversation about what we noticed."   
The self-described "nerd for the UN" dreams of working for the international agency. He'd been involved in the Model U.N and interned at the United Nations before winning the Bush fellowship.
Awarded by the United Nations Education, Scientific and Cultural Organization (UNESCO), the fellowship was created to help fund proposals designed to conduct brief work in a foreign country related to the mandate of UNESCO.
The $1,500 award enabled him to travel to Guatemala, El Salvador, Honduras, and Nicaragua, where he met with government officials, nonprofit leaders, local teachers and students. Fluent in Spanish, Aguilar, from New York City, interviewed people on national identity, pride, and perceived needs for education, food security and economic aid.
How did you prepare for the trip?
I started by emailing everyone I could who had knowledge of Central America -- from USAID to the World Bank, professors, Peace Corps volunteers, anyone who'd actually visited those countries – and seeing if they were available for a few minutes for a few questions.
For the World Bank and USAID, I just started surfing the Web and seeing who their desk officers were. I went to the UN twice to meet with representatives of the respective missions of the four countries. I had a good 30 or 35 interviews.
What affected you the most?

You read the books and you know about the poverty, corruption and hard times, but it still shocked me. When I first stopped in Nicaragua, I knew it was the second poorest country in the Western hemisphere, but what really took me by surprise when I landed was seeing children barefoot on the street begging. It shocked me to see such poverty in our neighbor to the south.