International Success Story
Thailand Service Changes Student's Views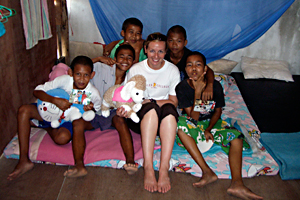 While serving in the Peace Corps in Niger, Jennryn Wetzler '08 watched as a local friend was forced into prostitution by her family. This experience made human-trafficking a focal point for her activism, graduate studies, and future career. 
"I felt helpless in that situation," she recalls, "and studying global migration concerns and human insecurities in grad school gave me a sense of traction."

As a graduate student in the School of International Service, Wetzler received a Boren Fellowship to conduct independent research on trafficking in Thailand.  
By assisting with the reintegration of sex workers in Pattaya, Thailand, she has been able to broaden her understanding of the complex situation in Thailand and the global challenges faced by economically marginalized people.
"Thanks to my time in Thailand, my views on trafficking have undergone a complete overhaul," she reflects. "I initially expected to see much more victimization and 'trafficking' behind the Thai sex trade. Fortunately, having discussions with researchers in the field and many prostitutes in Pattaya humbled me. I realized how many assumptions I was bringing to my work–and how dangerous that is.  I think our American framework of understanding labor migration and exploitation is often patronizing."
By speaking to women about their experiences both before and during the reintegration process, Wetzler hopes to uncover new information on how best to improve U.S. anti-trafficking and reintegration efforts.