Internships
Students Pursue Political Internships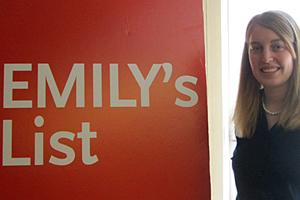 With American University students consistently ranked among the most politically active in the U.S., it should come as no surprise that they are taking on exciting internships aimed at the Election Day success of their respective parties and candidates.

Danielle Lipsman, SPA/BA '12, joined the Democratic National Committee (DNC) in September 2011 as a research intern. There, interns help create and maintain dossiers on candidates.

"[At the DNC], every intern is given a specific candidate to follow," says Lipsman, who spent much of the fall and early spring conducting opposition research on presidential candidate and Texas representative Ron Paul (R). "We not only need information on the candidates themselves, but also on what their friends and family are saying about them."

In addition to her research on Paul, Lipsman watched and transcribed videos of speeches and interviews featuring Texas governor Rick Perry (R) and former Massachusetts governor Mitt Romney (R). Some of the videos were several years old. Lipsman searched for altered positions and long forgotten but damaging comments that could negatively impact their presidential campaigns. This research was then sent on to the communications department "for press releases or political attack campaigns."

As an intern with the Republican National Committee (RNC), Nick Tan, KSB/BSBA '13, is working on the opposite side of the political aisle. Tan works in the so-called "War Room" of the RNC's research division, where he monitors major news broadcasts, watches and records speeches, and tracks relevant news updates to transcribe for political advertisements and evaluate whether candidates pass Republican "litmus tests."

"I gather the raw data, then process it into a standard form for other departments to analyze and use in their respective fields," he says.

Tan looks for anything that can give GOP candidates an edge this election season while undermining their opponents. For example, he closely tracked developments with the 'gunwalking' scandal, Operation Fast and Furious.

Meanwhile, Alyssa Franke, SPA/BA '14, is serving as a new media intern for Emily's List, a progressive organization committed to electing pro-choice Democratic women. She blogs for the group's website and keeps an eye open for articles that can be used for its Twitter and Facebook pages regarding new endorsements or useful information about campaigns.

"I've always been interested in the women's movement," says Franke. "This internship allows me to be in the middle of it all and work within it."

Franke's position occasionally requires her to tackle highly partisan issues like the ongoing contraception debate. In one blog post she argues for the need to improve women's rights and healthcare, and suggests achieving this by having more women representatives in government. The post also mentions that Emily's List supports 33 women candidates for public office this year.

Back on the conservative side, Todd Carney, SPA/BA '13, spent this spring semester interning for Jamestown Associates, a full-service Republican political consulting firm specializing in direct mail, television and radio production, and general strategic consulting. There, he researches both opposition and endorsement advertising and assembles news clips and drafts for potential political ads.

"This internship has shown me the inner workings of political advertising that are not always obvious to the general public," says Carney.

The small staff size at Jamestown Associates allows interns to become highly involved in day-to-day decisions and projects, says Carney. With the responsibility and experience he has obtained through this position, he envisions a future career in political communication.

"The interns [here] do real stuff and get hands-on experience" he says. "It made me realize this is an area I'm really interested in."

These AU undergraduates show that students can get involved in the political issues and campaigns they most care about while also advancing their careers. And in a city like Washington, D.C., during an election year, the opportunities are endless.