Professional News
SIS Career Week: A Source of Insight and Connections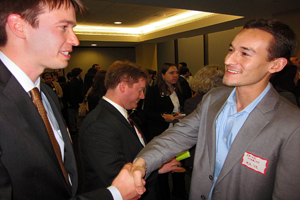 Each spring, the American University Career Center hosts a week of career development and networking events targeting School of International Service (SIS) students of all degrees and citizenship statuses.

"With offerings like Leveraging Your Master's Degree, Building a Career in the U.S.: Options for International Students, and Leveraging Your Bachelor's Degree, SIS Career Week offers something of value for every SIS student," says Dr. Francine Blume, director of experiential education at the Career Center.

SIS Career Week events are designed to confer useful knowledge and career strategies to students, while also offering valuable perspectives and advice.

"I believe these Career Week sessions help students think realistically about what type of jobs might be available to them after graduation and how to best frame their qualifications," says alumna Lauren Schultz, SIS/BA '10, who currently works for the Embassy of Brazil. Schultz served as a panelist at the Leveraging Your Bachelor's Degree event.

Meredith Lukow, who attended the Leveraging Your Bachelor's Degree event, offered a positive review.

"A lot of career advice comes from those who are older and have been out of college for a while, so it was nice to get it from people recently entering the job market now as opposed to 10 years ago," says Lukow, SIS/SPA/BA '12. "[The panelists'] most helpful advice was to have a realistic time frame for finding jobs. They all had to apply for several jobs before getting their current positions."

Graduate student Luke Heselden, SIS/MA '13, attended multiple SIS Career Week events in order to learn more about "the challenges we face in this tough job market and the pitfalls to avoid."

"The panelists also emphasized the importance of using informational interviews to make new connections and build a professional network," says Heselden.

The Career Center developed programs to assist international students, as well.

Hailing from Brazil, Lopo de Castro Neto, SIS/BA '12, attended the Building a Career in the U.S. event "expecting the high-quality advice typical of these sessions." There, he was happy to receive crucial information about employment and visa technicalities for foreign-born students.

SIS alumni played key roles in the success of this year's programs by serving on panels, offering career advice to students, and networking with attendees at various events.

"The commitment our alumni have to SIS and to fostering the professional development of our students is wonderful to see, and the SIS Alumni-Student Networking Reception was a great example of their continued support," says James Goldgeier, dean of SIS.

Indeed, more than 50 alumni attended the networking reception and several announced internship and job opportunities with their organizations.  

"The alumni's willingness to mentor our students, host our students as interns, and use their professional networks to hire our graduates is truly impressive," says Goldgeier.

One such alumnus, Brad Dragoon, SIS/BA '09, attended the networking reception to recruit for his organization, Kroll, Inc., a risk consulting agency.  

"I'm happy to be here networking and giving back to the AU community that nurtured my career in the past," says Dragoon.

This year, SIS Career Week spanned from January 30 to February 2. Many returning alumni served on panels to "return the favor" to the Career Center by passing on knowledge and connections to a new generation of SIS students.
 
"When I was a student, I attended many of the Career Center's networking events, and usually prepared for them by discussing my resume with [SIS career advisor] David Fletcher, who was great about connecting me to recent AU alumni in my field," says Schultz. "The Career Center helped me perfect my resume and cover letters, as well as work on the essential 'elevator pitch,' which boosted my confidence at the AU Job and Internship Fair and other networking events."