Education
Applying to Grad School? Follow Tips on Preparation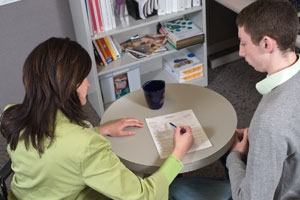 For students deciding on whether to attend graduate school, November and early December can be a stressful time. With application deadlines looming, being knowledgeable about program requirements and determining if continuing your education is the right choice are integral first steps in the process, according to Career Center advisors and university professors.

Whether you're an undergraduate student applying directly to a master's or PhD program or an alumnus planning to return to higher education, the Career Center offers a variety of resources to help with applications. From prep books in cover letter writing and GRE preparation to advising appointments and panels, using the Career Center can be a highly beneficial way to learn about your options.

"Sometimes students are not sure if they want to go straight to grad school or if they want to get a full-time job, and we'll take a look at that," said Director of Career Development Sue Gordon, who advises students in science fields and on the pre-med track. "Say they decide 'Yes, I want to go to graduate school and I'm certain of it,' we can help them with resources to help them find grad schools."

Career Center advisors work to help students become more confident about their applications and their decision to attend graduate school, law school, or medical school.

"The biggest suggestion I can make is for students to be very strategic and very intentional in their research, who they're talking to, the types of schools they're targeting, and using their career advisor," said SPA Career Advisor Jennifer Carignan.

AU offers a range of opportunities for graduate studies, with well-regarded academic programs. Students are encouraged to build relationships with faculty and research graduate programs online and with the Career Center.  

One of the most common questions students have for Career Center advisors is whether to gain work experience before applying to graduate schools. The answer to that varies by discipline.

Lily Emamian, SIS/BA '13, who is contemplating a master's or PhD in international studies, attended the Career Center's panel discussion "Considering Graduate School: Tips for Deciding and Applying" and came away with a better sense of the entry-level jobs she should be looking for after graduation.

"It's just realistic to get more experience so that you know how to make yourself a better candidate," Emamian said.

The panel inspired her to schedule another appointment with her career advisor to discuss her options upon returning home to North Carolina next summer.

Similarly minded is Nathan Eckman, SIS/BA '14, who is considering graduate school at Peking University to better his Chinese language skills and gain expertise in Chinese politics. Eckman credited the panel discussion with teaching him how to tailor his applications to specific schools and programs.

"It was really useful to hear that so much stuff is field-specific…you should make sure that [your materials] apply to the field you're going into," Eckman said. "I might have overlooked that otherwise."

Retired Professor John Richardson, who led SIS's doctoral program for nearly a decade and spoke on the panel, echoed Eckman's realization. "Students must have a clear understanding of what they plan to study in graduate school and need to explain their interest in each program in each application," he said.

"Many people, most people, entering a PhD program don't have a clear understanding of what PhD education is," Richardson said. "It's not only an academic experience; it's a culture. It's a rite of passage into an academic community."

Whether you apply immediately after graduation or plan to wait longer, arming yourself with research and self-empowerment, advisors contend, are the keys to success.