Achievements
18 Students Win Substantial Funding to Study Abroad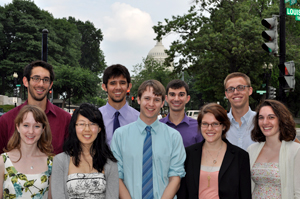 With 18 recipients of 2011 Boren Awards for International Study, American University (AU) students continue to be recognized as leaders in international research and foreign language acquisition.

Boren Fellowships and Scholarships fund U.S. graduate and undergraduate students, respectively. Recipients study and conduct research in languages and areas of the world that are critical to U.S. interests and underrepresented in study abroad programs. These regions include Africa, Asia, Central and Eastern Europe, Eurasia, Latin America, and the Middle East. In exchange for funding, Boren recipients commit to a year of service, or the equivalent of the duration of their funding, in a national security position with the federal government.

Nine graduate students earned Boren Fellowships, while nine undergraduates earned Boren Scholarships. As a result, AU currently ranks second in the country for Boren Scholars.

As these awards have become more competitive nationwide--the number of applicants for the Boren Fellowship increased by 20 percent this year–-AU students have proven successful because of their sustained interest and commitment to their region and language of choice.

Since graduating from high school, Christie Valentine (SIS/BA '12) has interned with refugee aid and resettlement organizations such as The Catholic Charities Refugee Resettlement Program, Amnesty International, and Catholic Legal Immigration Network, Inc. Valentine has taken four semesters of Arabic and numerous courses on the history and politics of the Middle East since transferring to AU. Now, with her Boren Scholarship, she will spend a year studying abroad at the University of Jordan in Amman.

"This will be a great opportunity to live and work in the region I've been studying for so long," says Valentine.

In addition to her language courses, Valentine intends to research the Jordanian government's response to the Iraqi refugee crisis, volunteer with Iraqi and Palestinian refugee populations there, and study the impacts of forced migration.

Through Boren's new African Languages Initiative, Kara Naseef (SIS/BA '13) will study Swahili at both the State University of Zanzibar in Tanzania this fall, and in Nairobi, Kenya in the spring. With her scholarship, Naseef is also able to complete an intensive Swahili language course this summer at the University of Florida before departing for Africa.

Naseef says that her four semesters of French, an alternative break trip to Senegal, and volunteer work with Africa-oriented children's health organizations while at AU all helped to show the scholarship selection committee that she is committed to the region and to gaining foreign language proficiency.

Meanwhile, Olimar Maisonet-Guzman (SIS/MA '12) is preparing to spend the next 10 months in Brazil researching dam governance, with an emphasis on social participation as a conflict awareness tool. With Boren funding, she will split her time there between the cities of Sao Paulo, Porta Allegre, and Salvador, where she will study hydropower and other energy projects. Maisonet-Guzman also plans to conduct interviews with government policy makers, academics, and NGOs representing communities affected by dams. This research will build upon her previous research as a fellow at the U.S. Department of State, where she worked on issues in energy, water, and human rights regarding development projects within emerging economies.

A native of Puerto Rico fluent in Spanish and English, Maisonet-Guzman spent the last six months studying Portuguese at the International Center for Language Studies in Washington, D.C.

"It showed the Boren Selection Committee that I already had some familiarity and training with the language," she says.

Boren Fellows and Scholars represent a variety of academic and professional disciplines, but all are interested in studying less commonly taught languages, including but not limited to Arabic, Chinese, Korean, Portuguese, Russian, and Swahili. The awards are funded by the National Security Education Program.