Internships
Accessible Reading for All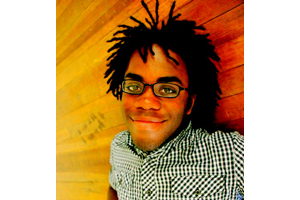 Audio Production freshman Travis Bozeman understands the power of sound. An intern at Learning Ally, an organization dedicated to "making reading accessible for all," especially those who are blind or dyslexic, Bozeman works to troubleshoot and ensure top sound quality as volunteers read textbooks, novels, and other visual media out loud. 
Bozeman began his internship with the guidance of his Sound Synthesis I professor, William Brent and AU's Center for Community Engagement and Service. Bozeman was able to use his experience at Learning Ally to add an additional credit to his Sound Synthesis class. Students who participate in this program are required to work at least forty hours at their service location.

Bozeman's responsibilities at the Friendship Heights organization include re-wiring sound booths, solving technical problems, and helping readers to understand the best ways to address their tasks. "Many people are eager to read," says Bozeman. "But then they come to a chart or something like that, and we have to help them understand how to read it."

"It's a lot of real life experience," says Bozeman. "All of the troubleshooting, working with people who are volunteers and not professional actors, is really letting me experiment with the things I'm learning in the classroom." Volunteer opportunities are open to all at Learning Ally. Individuals do not have to have prior experience with recording.  
Originally called Recording for the Blind and Dyslexic, Learning Ally operates studios nationwide, and continually works to ensure that every book can be made accessible to all students, especially those with "print disabilities." A Print Disabled person can have a learning disability, be visually impaired or have another physical disability. The one thing that all print disabled people have in common is an inability to access all print media in the standard way. With programs such as "Record-a-thon" and encouraging "A Different Way to Read Across America" in conjunction with the National Education Association, the organization consistently works to find innovative ways to harness the power of sound to promote literacy. Audio books are distributed nationwide though mp3s and other digital storage systems. The can be placed on iPods or other music storage devices. 
While Bozeman has largely focused on troubleshooting for Learning Ally, he has also played a large role in mixing and editing recordings before they are sent out. "It's great because I'm learning valuable skills, but I also feel like I'm helping address a need that people don't really think about," says Bozeman. "I really hope I can keep working with them for years to come."    
To find out more about Learning Ally or to volunteer as a reader, visit the Learning Ally Website.