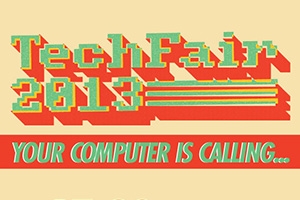 It's time for Tech Fair 2013! The Office of Information Technology and the University Library are partnering to present this event on the library's first floor during Welcome Week and the first week of classes, Saturday, Saturday, August 17 through Friday, August 30.
EagleSecure has been replaced by EAGLE-SECURE, a new wireless network with a slightly different name. EAGLE-SECURE also replaces WirelessSetupAU. It's important for all wireless users to bring their computers up-to-date.
Technology Assistance
Get what you need to make your computer work for you! Students, faculty, and staff can drop by for assistance with:
Eagle-Secure, the new wireless network
Wireless printing
Email and other connectivity
Your other technology questions
It's helpful to bring a power cord with your computer.
Video Tutorials for Connecting to Wireless Available
To show you how to connect your computer to the EAGLE-SECURE wireless network, we have prepared a series of video tutorials. There is a video for each operating system, depending on your computer:

New Wireless Users
New wireless users can also connect to the eagle-secure wireless network on their own. Instructions and tutorials on how to connect using different operating systems can be found here:
http://www.american.edu/oit/network/Eaglesecure-Wireless.cfm