Government and Politics
Satisfaction Grows Among Public Service Employees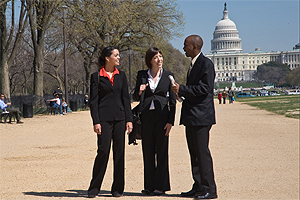 Employees of the Nuclear Regulatory Commission are the most satisfied federal employees, according to the 2009 Best Places to Work rankings, compiled by American University's Institute for the Study of Public Policy Implementation and the Partnership for Public Service. Overall satisfaction is up 2.4 percent, from 61.8 to 63.3, with 71 percent of agencies reporting greater satisfaction.

"The whole idea of employee engagement is to make the workplace more productive," said Robert Tobias, institute director. "These rankings provide an incentive for agencies to focus on their employees; they give a roadmap for improvement; and they help Congress fulfill their oversight responsibilities."

"You can't manage what you don't measure," added Max Stier, president and CEO of the Partnership for Public Service. "The Best Places to Work rankings are an important tool for federal managers who understand that employee satisfaction drives agency performance. They provide both transparency and accountability – and they are an important benchmark for this administration."

The top ten agencies are:
 
1) Nuclear Regulatory Commission
2) Government Accountability
3) National Aeronautics and Space Administration
4) Intelligence Community
5) Department of State
6) Environmental Protection Agency
7) Department of Justice
8) General Services Administration
9)  Social Security Administration
10) Department of Commerce

The most improved large federal agency is the Small Business Administration, increasing its score by 30.1 percent and moving up in the rankings from 30 to 26. The Office of Personnel Management also has a significant score increase of 14.3 percent, moving up from 25 to 20 in the large agency rankings.  The Federal Maritime Commission was the biggest mover among small agencies, with a 28 percent increase, moving from 23 to 6 in the rankings.  

The rankings are based on a survey conducted by the Office of Personnel Management that represents the views of 212,000 federal employees.  Agencies are ranked in 10 workplace categories, including leadership, work-life balance, and pay and benefits.

The complete rankings of all 278 agencies can be accessed at www.bestplacestowork.org. Federal employees or young job seekers can use the site to access demographic data and all 10 workplace categories, as well as generate custom reports and conduct side-by-side comparisons for up to three agencies.