Achievements
Digital Media Student's Work Gets Noticed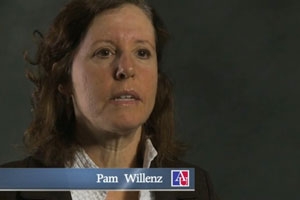 When she entered the School of Communication Digital Media Certificate Program, Pam Willenz had been a communications and management professional for more than 25 years. In roles as public affairs manager for a busy health trade association and as a consultant for two health-consulting firms, she was a problem solver. She currently works as the business and content manager for a consulting technology start-up, managing their website content, social media outreach and business development, which is what drew her to the Digital Media Skills Certificate program.  
Taught entirely online, the program covers what communication professionals need to know to advance in today's tech-focused environment.

While in the program Willenz has acquired a whole host of video, audio and production skills in her Video for Social Media course, where she developed her first podcast series, Juice Quest. Her podcast has given her professional exposure and has even been recognized as New and Noteworthy by iTunes. 
SOC talked with Willenz about the success of her podcast and her experience in the Digital Media program. 
SOC: What made you choose juicing as the topic of your podcasts?
Willenz: I chose juicing because my doctor and nurse practitioner advised me to start juicing to improve some health issues. I had to buy a juicer at about the same time I started the Video for Social Media module. I realized that I could produce a funny, informative series and at the same time learn more about the nutritional benefits of vegetables and fruits.

SOC: What was most challenging about the assignment overall?
Willenz: Coordinating the shoots with all the people involved was quite difficult. Using the equipment was also challenging since I had never used video or sound equipment before and learning the program Premiere Pro was also challenging at first.

SOC: How do you feel about Juice Quest being tapped as New and Noteworthy by iTunes?
Willenz: I think it is great. I think this video podcast is different from other juicing/cooking podcast. I have guests, humor (outtakes) and an educational component to the episodes. I am very glad that iTunes recognized the merits of Juice Quest. I hope to get a following and see the podcast as cutting edge along with being entertaining.

SOC: Will there be more episodes of Juice Quest?
Willenz: Yes, I produced two more episodes for my capstone along with building a website to house Juice Quest. I currently have five episodes and will now do an episode a month.

SOC: How will you apply the skills you developed during this assignment to your current and future work?
Willenz: I now know how to create video podcast series – from treatment/story outline to promoting a series on Blip TV/iTunes and on social media – Facebook, Google+ and Twitter. I am about to do a similar project with a video series we produced at the technology start-up I work for: PosiTek.net LLC. We are producing a series on technology products and will address common issues and problems people have and offer practical help for people's digital lives. The series is more technical but the skills I've learned – from shooting, writing scripts, using Adobe Premiere, using Screenflow (to do screencasts), making all the artwork, making an RSS feed, promoting the video – can all be applied.

SOC: What made you decide to enroll in the Digital Media certificate program?
Willenz: I had been a manager for a communications office and also a consultant for the last 25 years so never learned any web, digital skills during that part of my career. I started working for technology start-up and all of the work was digital. Rather than try to teach myself bit by bit, I decided to enroll in the Digital Media certificate program. I now see how valuable the program is to build a foundation of technical skills for working in any field that has a digital component.

SOC: Could you talk about some of the courses in the program and some of the other work that you have done in them?
Willenz: In the first class, digital media literacy, I learned how to use Photoshop. I developed a portfolio of images – a collage, an enhanced photoshop image, a movie poster and a cinema graph. In the second class, web development, I built a responsive website from scratch using HTML5 and CSS3 in Dreamweaver. In the third class, Dynamic Content, I built a mobile app using Wordpress and Jquery and using Dreamweaver. In the fourth class, Video for Social Media, I developed the video podcast series - Juice Quest with Pam – using Premiere Pro and learning a whole host of video, audio, production skills. Finally, for my capstone, I built a website for Juice Quest and a portfolio site to house my professional achievements.

SOC: Do you have any advice for someone interested in pursuing the Digital Media Certificate program?
Willenz: The program is great for those who have worked or those who want to work on the digital side of communications. I knew absolutely nothing about graphics, design, web development. If you put in the time and use all the resources, you learn a ton and gain great skills for work in any of these areas. I do think there needs to be some options for continuing on – to get a full masters – to go deeper in these areas. I now know HTML, CSS, PHP, Jquery – but I would need to know more to really be able to offer employers skills they want.