Achievements
Ten SIS Students Awarded 2009 Boren Scholarships, Fellowships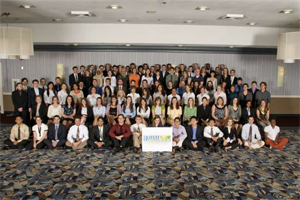 The 2009 Boren Scholars and Fellows have been announced, and American University's School of International Service (SIS) account for a sizable fraction of the total winners. Boren Scholarships provide up to $20,000 per year to undergraduate students, and Boren Fellowships, geared toward graduate students, offer various amounts depending on whether study occurs in the U.S. or abroad. In both categories, the winners commit to a minimum of one year of employment in the federal government after graduation. 
SIS students Titus Stout, SIS/BA '12, Elizabeth Tseng, SIS/BA '11, Nicole White, SIS/BA '11, and Shino Yoshen, SIS/BA '11 have all been named Boren Scholars for the 2009-2010 year. They will focus on studying less commonly-taught languages and underrepresented study abroad regions.
The following SIS graduate students have been named Boren fellows:

Jeremy Braveboy-Wagner, SIS/MA '10, will study "The Role of Political Parties in Egypt."
France François, SIS/MA '10, has chosen to research "Sudanese Refugees in Egypt."
Andrew Linkhart, SIS/MA '10, will look at "Korean Ethnic Nationalism and Inter-Korean Relations: What are the Implications for US Foreign Policy?"
Katie Missimer, SIS/MA '10, will research "Local Government Development as a Conflict Transformation Mechanism."
Carolyn O'Donnell, SIS/MA '10, is using her fellowship to study "Effectiveness of a Participatory Approach to Reproductive Health Programs in Nepal."

The Boren Awards have existed since 1994, and over three thousand prizes have been given to students since that time. In 2008, SIS boasted three Boren Fellowship and two Boren Scholarship recipients.