News and Notes: 1/17/12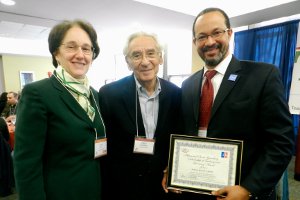 Professor Derrick L. Cogburn
(International Communication) received the 2011 Milton and Sonia Greenberg Scholarship of Teaching and Learning Award. Milton Greenberg formally presented Dr. Cogburn with the award at the 2012 Ann Ferren Teaching, Research and Learning Conference on Friday, January 13.
The prestigious award is bestowed annually and given to a full-time American University faculty member, dean or chair. The scholarship, which recognizes and promotes research-based instruction, consists of a $2,000 research grant in addition to $1,000 in dissemination expenses.
Professor Dylan Craig
(International Politics) has been selected to participate in the 15th Berlin Roundtables on "Borders and Borderlands: Contested Spaces Between States." 
He will present his essay, "Sovereign Interstices and the Return of the Non-State War Actor," which shows "how various kinds of transnational forces which are thought to be breaking borders down (e.g. supranational or globalizing forces, and subnational or fragmentary forces), have instead produced a world of overlapping polities and non-contiguous borders ... African actors have responded to these by militarizing intermediaries ('proxies') to conduct the business of states, between states." 
Professor Michelle Egan
(Comparative and Regional Studies) has been awarded a 2011 Jean Monnet Chair ad Personam, one of two faculty in the United States and one of seventeen globally to receive this specific designation based on a global competition. This is the highest individual award under the Jean Monnet program, providing funds for research and other scholarly activities.
In addition, Professor Egan is coordinating American University's role in a thirteen institution consortium of European universities and think tanks including the European University Institute, Istituto Affari Internazionali, the German Marshall Fund and Chatham House that has been awarded an FP7 (7th Framework Research Program) grant for three years from the European Commission.  The collaborative project will focus on on "Redefining the Transatlantic Relationship and its Role in Shaping Global Governance." 
The AU Career Center
will host its annual SIS Career Week from January 30 - February 2. Events range from workshops, alumni visits, and networking receptions.