Student Success Story
Career Blooms Through Community Connections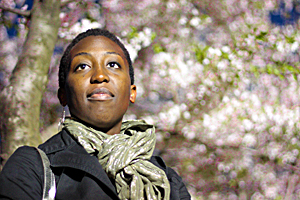 All around Washington, D.C., cherry blossom trees are in full bloom, coaxing tourists and residents alike to relax in their shade. But despite their serene beauty, a bustling network of staff and volunteers is busy coordinating the city's annual festival held in the flowers' honor.

Since 2007, Zainabu Williams, SIS/MA '11, has volunteered with The Japan-America Society of Washington DC to help ensure that the Sakura Matsuri (Japanese for "cherry blossom") Street Festival runs without a hitch. Williams' volunteer work with the local Japanese community, in turn, has played a major role in launching her career in Asian affairs with the federal government.

Williams sought a way to "stay connected to the Japanese culture [she] had grown to love" upon returning to the U.S. after teaching English in Japan for two years. To combat feelings of "reverse culture shock," she decided to help out at the National Cherry Blossom Festival. (The Sakura Matsuri Street Festival, a component of the larger National Cherry Blossom Festival, seeks to celebrate and share Japanese culture with a broader community.)

"Working the Festival has allowed me to make friends and connections within D.C.'s Japanese community, and to keep practicing my language skills," says Williams.

Furthermore, her long-term involvement with "one of Washington's most well known Japan-related organizations" impressed her current supervisors at U.S. Customs and Border Patrol (CBP) during her interview with the agency. Williams now works as a management and program analyst, focused on China and Japan, in the Asia Division of the CBP's Office of International Affairs.

"It showed them that I was serious about Japanese issues and proactively sought out opportunities to learn more about the culture," says Williams.

Williams will continue her career in public service when she joins the U.S. Department of State as a Foreign Service Officer upon graduation in May.

Williams advises students to pursue volunteer experiences that help to build their skill set, and that will deepen their understanding of a field or industry. She urges students to get involved in their communities by volunteering at local events, lectures, and festivals related to issues they care about in order to meet people who share common interests.

"These are great opportunities to network and pass out business cards," says Williams.

Even as she balances her job at the CBP and graduate course work in international communications, Williams has volunteered to emcee an event at this year's Festival. While she hopes to stimulate the crowd's interest in Japan with fun facts and by sharing humorous stories from her time as an English teacher there, Williams feels that the recent earthquake and tsunami in Japan will give this year's events a more somber tone.

"Most importantly, I will emphasize the need for us, as Americans, to show our support for Japan during this difficult time by donating to the Red Cross," says Williams. "The Festival this year will promote solidarity with Japan."

Volunteers will be on hand to collect donations for Japanese earthquake and tsunami victims.

Williams will emcee from a stage at the corner of 12th Street, NW and Constitution Avenue on Saturday, April 9.