Student Success Story
SPA Student Discovers New Career Interest Through Internship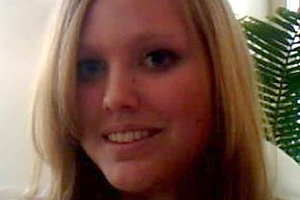 Political science had been the focus of senior Jessica Dall's college career, but after a paid internship at Leucrota Press, a small publishing house in Washington, D.C., the School of Public Affairs student found a new calling—writing.
"I interned at the DOJ [Department of Justice] and realized that I liked law, but not necessarily the practice," she said. So Dall set out to find an internship in a different field for the spring 2009 semester. To her delight, she stumbled upon Leucrota Press' editorial internship listing on Craigslist.org. "I figured, 'I've done creative writing; I bet I can edit,' and applied there," she said. "I got started and just loved it."
While she already had the basic skills necessary for the internship because of her work as a creative writer and politics editor for the on-campus magazine AM Word, Dall's internship was her first experience with professional writing.
Her supervisor quickly noticed Dall's knack for writing and her hard work as an intern. Dall eventually earned a promotion to editorial assistant and now works part time at the publishing house. "Since it's a small press, I got my feet wet right away and proved myself a lot quicker," she said.
Dall has enjoyed her work at Leucrota Press so much that she plans to combine her passions for political science and writing."[Politics] won't be completely gone," she said. "I just won't be running for office any time soon." Eventually, she would like to work as a journalist covering politics for C-SPAN.
But for now, Dall is happy with her progress at Leucrota Press—and her writing. Dall's book, The Me Culture, was published by CreateSpace and her novella, The Gospel of Abraham, is featured in an anthology published by Club Lighthouse.
Dall credits part of her success to the tools provided by the Career Center and recommends that her peers also utilize them to get ahead. "Every time I gain new experience, I drop in to revise my resume. It's helped a lot," she said. She also encourages students to use mock interviews to reveal unknown weaknesses and sharpen interviewing skills—skills that have already paid off for Dall.