Student Success Story
Internship Experiences Help AU Student Solidify Interests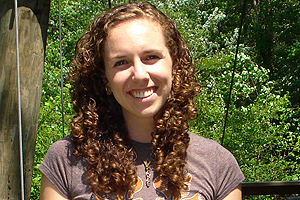 As Emily Creveling, CAS/SIS'11, learned, interning early in college solidifies interest and sparks inspiration.
While some AU students wait to seek internships until their junior or senior years, Creveling got a head start as a freshman and sophomore with Africare and Women for Women International. Creveling already knew she was interested in women's issues and international development, but it was working with these two NGOs that convinced her to double major in international studies and women's, gender, and sexuality studies.
Creveling originally intended to focus her studies on Africa and therefore interned at Africare during the spring of her freshman year and fall of her sophomore year. Her interest in women's issues as well as her gendered society class led her to declare a minor in women's studies and to pursue a twice-weekly internship with Women for Women during the spring of her sophomore year. As a result of her internship experiences, Creveling realized she wanted to focus on women's issues around the world—not only in one region—and switched her minor in women's studies to a second major.
"Women are the marginalized group of the world," Creveling stated. "I don't think women are being included in the discourse [on international development or] in the decision making." As she learned from her internships, "Women's issues are key to international development."
At her Women for Women internship, Creveling felt "like I was making a difference not just for these women, but for their communities." The organization has field offices in eight countries: Afghanistan, Bosnia, Democratic Republic of Congo, Iraq, Nigeria, Rwanda, and Sudan. At these offices, field directors work with native women who have experienced war conflict and, in many cases, have been sexually abused. Through the organization's programming, the women receive classes about health, contraception, and skills beneficial to their region, as well as a way to network with others in similar situations. During Creveling's internship, all of the field directors traveled to Washington, D.C., for a meeting. "It's really cool to see these strong women who came from these war-torn countries where typically women are suppressed," Creveling said.
Even through daily tasks, she recalled seeing how other women became empowered through the program. One letter Creveling read was from a woman thanking her sponsor sister for classes that had encouraged her to stand up for herself. Though the letter was translated into English, the woman's tone was still evident. "She was so empowered to be in charge of her own body. It was really inspiring," Creveling said.
Creveling found both of her internships through the Career Center's resources. She connected with Africare representatives at a Career Center event and found Women for Women International through www.idealist.org, a search engine her career advisor David Fletcher suggested. "I definitely find [the Career Center] beneficial," Creveling said. "It's nice to have that extra confidence that you planned ahead."
While Creveling delved into internships early on, some of her friends didn't seek them simply because they were freshmen with no experience. "Don't be afraid to put yourself out there and reach for internships you don't think you'll get," Creveling said. She wasn't sure if she would get a position with Africare as a freshman, but to her surprise, she did. "Internships are hands-on experiences that [are] really vital to your education and making you a well-rounded person," Creveling said.
Now in her junior year, Creveling plans to focus on AU clubs and classes. She is the co-director of sexual education for Women's Initiative and reproductive health advocate/publicity coordinator for AU Students for Choice. She is also considering volunteering at women's shelters in the D.C. area to continue learning more about women's issues.