Student Success Story
Internship Leads to True Calling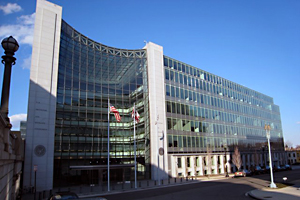 Coffee in hand, Sarah DeStefano '09 mastered the poise, diplomacy, and energy needed to excel in future endeavors.
Through a variety of internships and an open mind, the School of Public Affairs and College of Arts and Sciences student watched her interests evolve from dual-degrees in political science and economics to a true appreciation for the study of law.

Sarah may not have realized her life's calling if not for an exceptional internship experience at the Securities Exchange Commission (SEC) in the summer of 2008. Through happenstance and whitehouse.gov browsing on her own, Sarah applied for and accepted a transcribing position within the Investor Education and Advocacy department. 
Although not an internship with the FBI as she had initially hoped, the structured college-honors internship was an opportunity too good to pass up.
Through her experiences at the SEC, Sarah not only saw the real-world applications of her academic degree, but unexpectedly developed a interest in economic law.
The most difficult aspect of the experience was learning to promote her skills during the application process. She learned not to limit her opportunities.
"[Don't] get flustered or think you are unqualified," she said. "Apply for everything".
By taking a chance on this internship, Sarah succeeded in expanding her interests, something many adults fail to realize until well into a career.