Alumni Profile
Passion Makes the Difference for AU Alum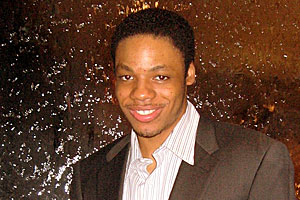 Experience is a good quality to have but, in some cases, passion is better. Tony Taylor '09 learned this firsthand during his internship with the National Coalition for the Homeless (NCH).
Taylor started his internship the summer before his senior year and continued throughout the school year. A psychology major, he originally planned his own research project to "focus on the family orientation of the homeless" as a means to see how people become homeless. This project was scrapped when NCH recognized his passion for the homeless and instead sent him to lobby on Capitol Hill and speak to the D.C. Council about homeless legislation.
While becoming more involved in the organization, Taylor brainstormed an idea for a new research study. With the help of AU professor Dr. Andrea Brenner in the sociology department, he designed a survey to find out how many homeless people were attacked over the past four years. He and a few peers from the sociology department went to soup kitchens and homeless shelters to conduct the survey. They discovered that one in every four homeless people surveyed was attacked by a non-homeless person.
Taylor presented the results to the D.C. Committee on Public Safety and the Judiciary—they were shocked. "Before we did the study, D.C. was considered one of the safer cities in the country [for the homeless]," Taylor said. The committee was not aware of the high rate of attacks because many are either not reported or not specifically listed in police records as attacks on the homeless. After evaluating the survey results, Phil Mendelson, chairperson of the committee and Councilmember-At-Large, decided to add attacks against the homeless as a hate crime as part of the "Omnibus Public Safety and Justice Amendment Act of 2009." The bill is still in the works but, if it passes, D.C. would be second only to Maryland in declaring attacks against the homeless a hate crime.
In addition to this major accomplishment while at NCH, Taylor was quoted about federal legislation in Time magazine's October 2008 article "Violence Against the Homeless: Is It a Hate Crime?" and The Washington Post's February 2009 article "Increase Seen in Attacks on the Homeless." When Time asked for Taylor's title, he had to think of one on the spot. Not wanting to give "intern," he instead came up with "research associate" and later gave The Post "policy associate."
Taylor had little experience prior to his internship. "My accomplishments as an intern [were largely because of] my ambition and ability to take initiative," Taylor said. "I was given great responsibility at the NCH because I wanted it and sought it out. If you have nothing to offer and you're interning for the sole purpose of beefing up your resume, you'll end up pushing paper instead of actually doing something substantive."
Taylor now works at D.C. Mayor Adrian Fenty's office as a correspondent management specialist. He believes his internship and research experience helped him get the job.
"What I tell people is I'm a case worker for constituent issues," said Taylor. He directs communication from organizations and constituents and also manages city services such as the Washington Metropolitan Area Transit Authority, Department of Motor Vehicles, and other related matters.
Looking back on his internship, Taylor stresses to students that you can "make a difference." "Having a passion and zeal for something will take you a long way in Washington, D.C."