Meet Our Student Changemakers
These CAS graduate students are already making their mark on the world, in the way only an AU Changemaker can. Get inspired by their stories!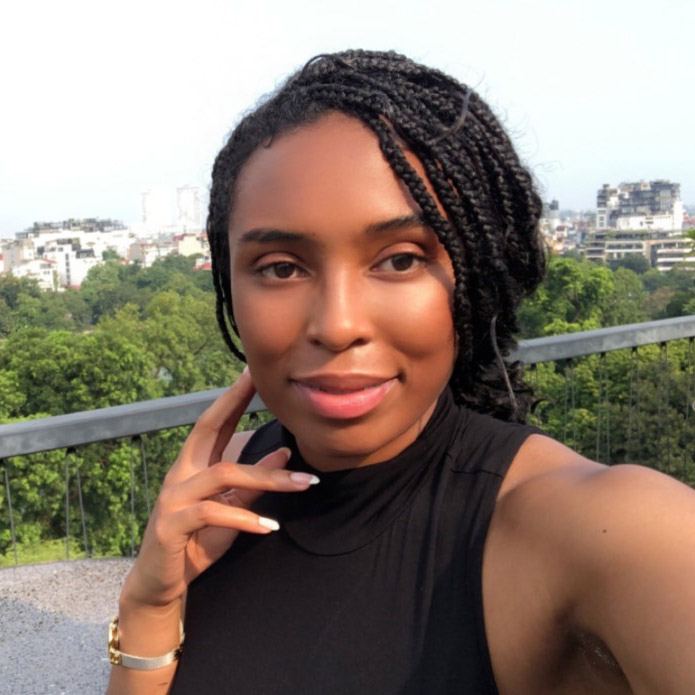 Alexis ThreattMS, Data Science
"At AU, I met great, enthusiastic, and encouraging professors who genuinely cared about my well-being—and students who became some of my closest friends. AU fosters an environment in which I felt comfortable being myself. It challenged me and prepared me for the world."
Alexis Threatt grew up in an urban area surrounded by a series of parks filled with trees. It was her first inspiration for the work she now does on the Global Climate Change Team at the US Forest Service International Programs. 
Alexis first got her foot in the door at the Forest Service while earning her MS in data science at AU. For her capstone, she landed a position as a program manager on the US Forest Service's Africa and Middle East Team, managing its Mozambique and Angola Programs. "Both countries endure massive fires across the country, and I decided to pursue a comparison analysis of wildfires in two high-priority conserva  bvxcfvdddvdvddbfvdhbvhbtion areas called the Niassa Special Reserve in Mozambique and Mavinga National Park in Angola," she explains.  
Alexis is thrilled with her current job. And with her environmental science background and MS in data science, she has lots of choices for her future. She is looking ahead at the possibility of earning a PhD, continuing with her forestry and climate change work, and implementing her data science degree—and perhaps even pursuing a career as a foreign service officer or working at the United Nations in an environmental position. 
Julian Urrutia-CarterMS Biotechnology 
"STEM is inclusive. I've learned that science is for everyone. AU gives me the confidence to pursue new scientific fields, especially those where I didn't feel (or wasn't told) I could be successful."  
Julian Urrutia-Carter was working as a respiratory therapist when he became interested in biotech. He was looking for a new challenge and an opportunity to deepen his scientific knowledge.  
Julian enrolled in American University's MS in Biotechnology program, where he has taken advantage of every opportunity to excel. In addition to his graduate classwork, he works as a teaching assistant in AU's General Biology lab, as a graduate ambassador, and as the publicity chair of the College of Arts and Sciences Graduate Student Council.  
During summer 2023, Julian will work on bioinformatics and genetic analysis projects at the Smithsonian's Center for Conservation Genomics at the National Zoo. "I'm hoping to learn more about genetic conservation efforts for declining and endangered species," he says. He will also work with Assistant Professor of Biology David Carlini on a computational transcript analysis project relating to research on surface-dwelling vs cave crustacean populations. And he will continue his work as an assistant high school football coach at Blake High School in Silver Spring, MD.  
"I really enjoy my courses at AU, and I'm introduced to new topics, ideas, and people every week," he says. "I like TA'ing, which allows me to work on my science communication skills. And as a grad ambassador, I can share my experience with other incoming grad students and let them know it's possible to switch paths and go back to school for what really interests you."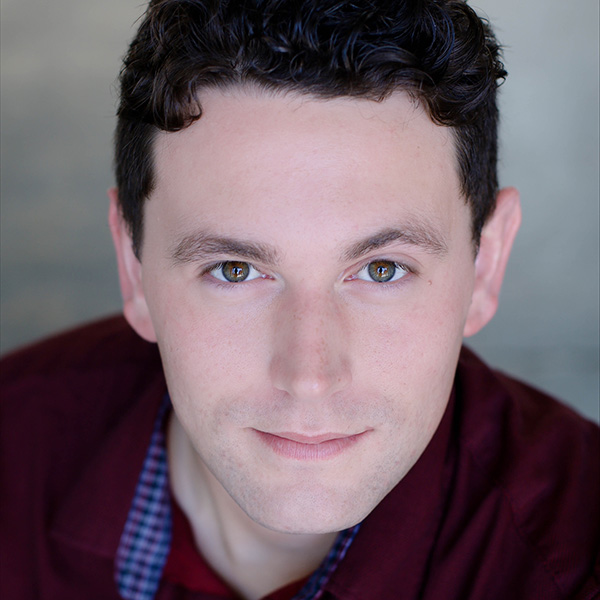 Justin SiskMA, Public Anthropology
"American University has furthered my academic training as a scholar of anthropology and religion," says Public Anthropology MA candidate Justin Sisk. "It allowed me to work closely with religious communities and to showcase those findings in an academic fashion."
Justin focuses his master's research on Norse Paganism — a religion that emphasizes community building through the worship of the Norse pantheon of Gods and Goddesses, ritual, and a close tie to nature.
During his studies at AU, Justin completed an internship with the Smithsonian Center for Folklife and Cultural Heritage, where he explored the economic, cultural, environmental, and social implications that surround ginseng digging in Appalachian communities. The experience gave him an opportunity to hone his skills as an interview transcriber and immerse himself in the rigorous Smithsonian research process.  
Justin plans to pursue a PhD and ultimately teach at a university, research institute, or museum and continue his work on religious beliefs, ritualistic behavior, identity, and counter-cultural narratives. "AU is helping me accomplish this goal by providing me with a wonderful learning environment that will not only help me receive my master's degree, but also help further my knowledge-building as a scholar," he says.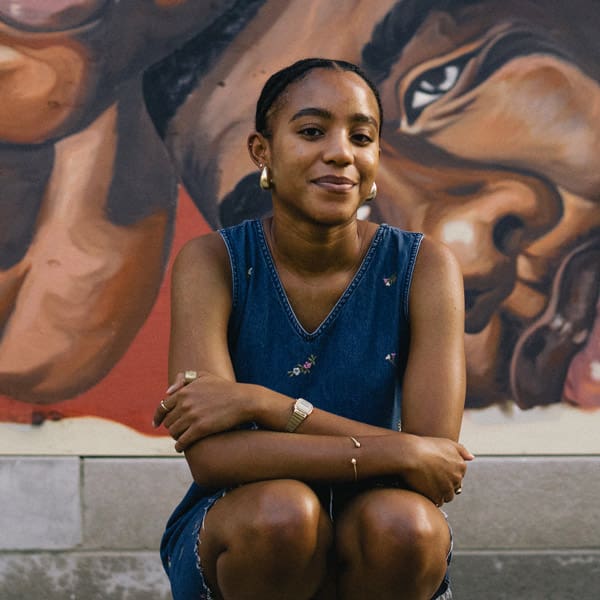 Shiloah Symone ColeyMFA, Studio Art
Both inside and outside the art studio, Studio Art MFA Candidate Shiloah Symone Coley interrogates the existing stories we come to believe as truths about ourselves, others, and the world around us.
Shiloah believes community-engaged work is crucial in unpacking the different perspectives that contribute to the narratives of our society. By seeking to center the voices of her collaborators, her process explores what it means to have agency in telling your own story, and she has facilitated youth-led art projects in New York City, Madison, WI, and Johannesburg, South Africa.
Shiloah is currently a Sherman Fairchild Foundation Fellow at the Phillips Collection, working with its Community Engagement and Marketing-Communications departments to develop meaningful storytelling and programming with the DC community.
After graduation she wants to continue collaborating with the communities around her, while also maintaining a dedicated studio practice through a residency or fellowship alongside an educational institution or nonprofit. She says that being at AU has given her an opportunity to rigorously research and advance her practice.
When I arrived at American University, I was primarily a painter. Now I work in a much more anti-disciplinary collage fashion that's driven by the themes and motifs I'm engaging with conceptually. And at the Phillips, I've had the opportunity to see the inner workings of how an art institution operates. It's been an incredibly educational experience.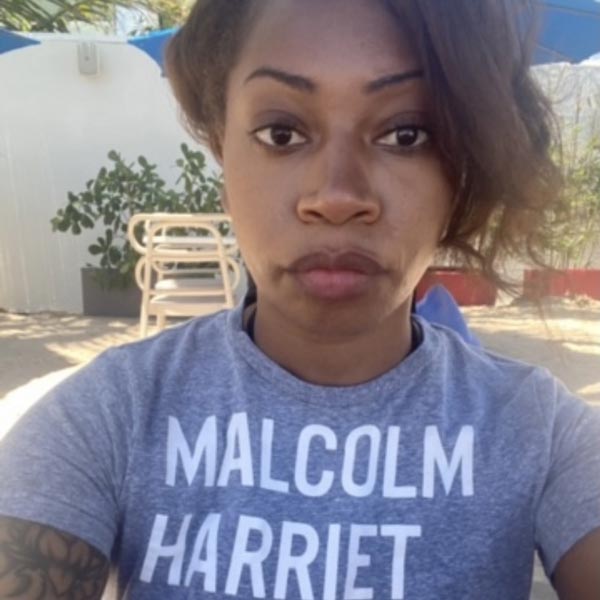 Candace MooreMA/PhD, Psychology
One day in 2019, Candace Moore went for a run. But instead of her usual four-to-six miles, she stopped after mile one, extremely fatigued. This marked the beginning of a long battle to manage a rare and debilitating health condition that has changed nearly every aspect of her life. 
Moore was born with a hemangioma at the base of her spine, which has grown into a large tumor. It has hollowed out her sacrum and placed pressure on nerves, which causes extreme pain and limits her movement. She has undergone two surgeries, and she travels to hospitals several times a week for radiation treatments, therapy, imaging, and follow-up exams. 
Remarkably, through all of this, Moore has successfully completed her first year as an MA candidate . She is the recipient of AU's Barnard Scholarship, and she's found many mentors at AU who believe in her. "I have dealt with so many obstacles while growing up; many people did not believe in me or think that I would reach the point where I am today. But I am an overcomer who wants to thrive, and not simply survive," she says.
Moore is working towards completing her PhD in psychology and becoming a clinician-researcher. "Psychology is my heart," she says. "In my opinion, a changemaker is someone who breaks down barriers that affect the least amongst us — the same barriers that I have had to overcome with great effort. I want to continue to be in service to others and use the knowledge I have gained from my experiences at AU for this purpose."
Meave FryerMA, Applied Economics
Three things drew Meave Fryer to American University's Applied Economics MA program: DC's robust job market, small and intimate classes, and faculty research that lined up with her interests — development and humanitarian economics with a focus on gender perspectives.
Meave has taken advantage of all these things during her time at AU. In June 2021, she began interning at a Virginia development and humanitarian aid agency. She's now working as the agency's monitoring and evaluation assistant, contributing to its mission of designing human development programs for some of the world's most challenging environments.
The work is a perfect fit for Meave, who wants to pursue development and humanitarian economics after graduation, in the monitoring and evaluation field. "Humanitarian aid programs aim to save lives, alleviate suffering, and maintain human dignity for victims of natural disasters, wars, famines, or other catastrophic events," she says. "Evidence-based and efficient interventions are critical. Monitoring and evaluation of such programs keep implementors accountable to the populations they serve."
Meave says her AU experience has helped her develop applied research skills to complement her background in international development. "I appreciate my professors for preparing me for life after graduation by not only teaching me how to use econometric tools, but always contextualizing them with real-world applications. The support of my cohort has also been key in making my experience at AU so fulfilling."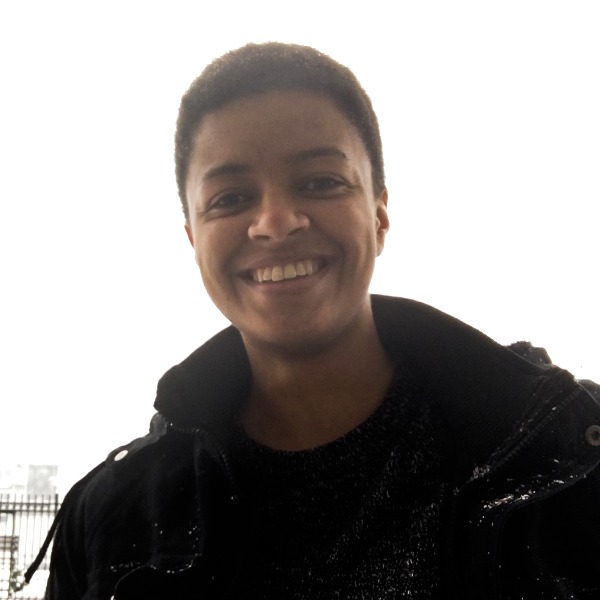 Julie Williams-ReyesMA, Philosophy
Julie Williams-Reyes (they/them) has spent their time at American University studying, writing, grassroot organizing, and advocating for populations who need help most.
Last fall, while working towards an MA in Philosophy and Social Policy, Julie interned for DC's Public Defender Service Mental Health Division. They are also a member of the abolitionist organization Critical Resistance, where they lead political education workshops, campaigns, and mutual aid projects, including Write Them All, letters to every person currently incarcerated in Oregon. Julie's latest writing project is titled: "Abolition Feminism: Practical Sketches for Disrupting the Spacetime of Domination."
After earning their MA, Julie is planning on pursuing a PhD in Philosophy. "Meanwhile, and for the many lifetimes to pass, I will work toward the liberation of all peoples, spending my time grassroots organizing. Study, love, struggle," Julie says.
The Philosophy Department has been indispensable to my growth at AU. The professors and staff care a great deal about their students and the world they come from and the world as it is constantly being made and remade. I am grateful to Ellen Feder, Andrea Tschemplik, Amy Oliver, Jin Y. Park, Anika Simpson, Ian Rhoad, Asia Ferrin, Perry Zurn, and Rebecca Carr. And of course, my love for philosophy, the dimensions it challenges and dreams, would not have been possible without Martina Ferrari.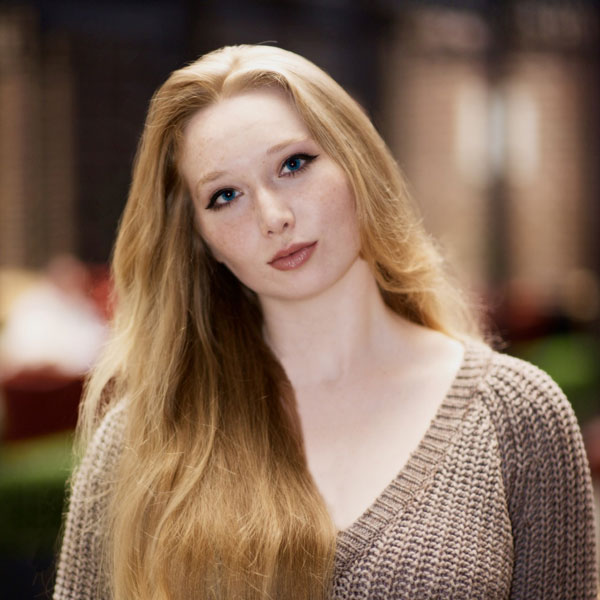 Sarah SalkowskiMA in Ethics, Peace, and Human Rights
Sarah Salkowski envisions a world where all people going through the pregnancy and birthing process are empowered to make informed decisions and successfully navigate the healthcare system. While earning her MA at American University in Ethics, Peace, and Human Rights, she has found the perfect place to work towards achieving these goals.  
Sarah works for the German nonprofit, Empowered Birth Movement (EBM), which confronts maternal health inequities by advancing the availability, affordability, and accessibility of multilingual health information and community-based support throughout pregnancy, birth, and postpartum. At EBM, she began by reading and writing briefs on existing research in the field. She's moved on to assist all of EBM's programs, including outreach, university partnerships, the community peer-support course, fact sheets, and research.
Sarah says AU has prepared her for her dream career in the nonprofit sector, impacting people's lives and empowering future generations. "The lessons I have learned during my degree have allowed me to develop as a human, a student, and as a professional in the nonprofit world. AU has given me the confidence I need to bring forth the kind of change I want to see," she says. 
Sarah especially appreciates her AU peers.
They've challenged me in so many ways and pushed me to do my absolute best. You could not ask for a better group of people to grow with, especially through the challenging times we've had in this pandemic."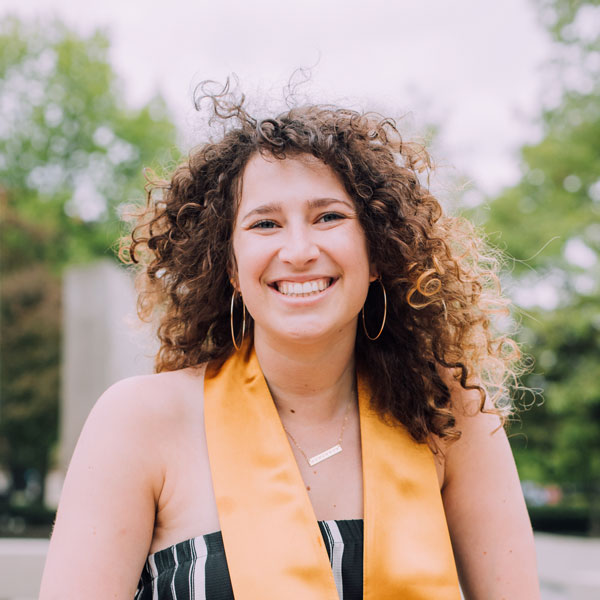 Hannah NisonsonMS, Environmental Science
Hannah Nisonson's passion for environmental justice has led her to pursue an MS in environmental science at American University and a prestigious fellowship at DC's Global Environment and Technology Foundation, where she is building research databases for blue carbon sequestration methods. Her goal is to find alternative ways to reduce blue carbon in and around the ocean, potentially by carbon sequestration and oceanic carbon credits.
Hannah says she hopes environmental justice will always be at the forefront of her life. At AU, she is a merit scholarship recipient and teaches an environmental science lab to undergraduate students. "I love a space where I can share my passion and knowledge for environmental science," she says.
Hannah is also looking forward to working with Associate Professor of Environmental Science Sauleh Siddiqui, the principal investigator on a National Science Foundation-funded food waste grant—the largest-ever grant in AU history. She hopes to help with the data analysis and visualization for the project.
It's a perfect fit for Hannah, who came from a technical undergraduate engineering background and plans on pursuing a doctorate in environmental science and a career as a professor at a scientific research institution.
"I have always had a passion to improve the world around me. AU was the perfect gateway to helping me understand where science and true societal progress intersect. My professors were dedicated to my success and taught me the practical tools to achieve a career in environmentalism. Not only was I able to learn hard skills like R and GIS, but I was also able to leverage that with the realistic applications of these tools. This landed me a position as a marine spatial scientist with NOAA after graduation. It has been a perfect balance."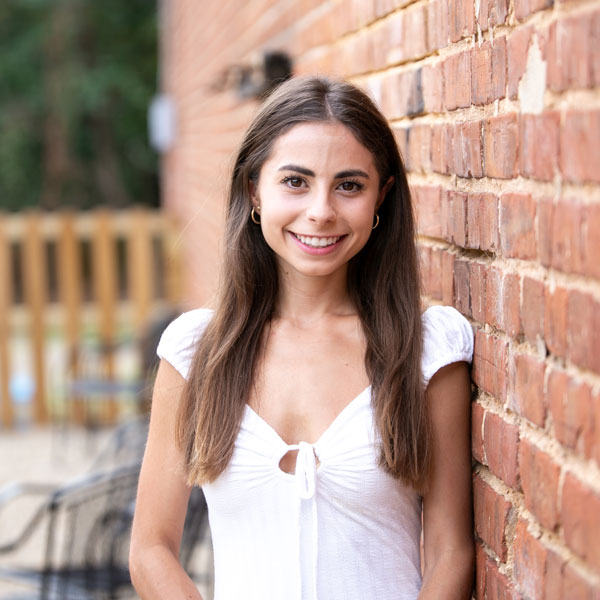 Tate AltmanMS, Mathematics of Information & Security
Tate Altman, a first-year MS candidate in Mathematics of Information and Security, is already analyzing data with real-life national security implications.
The data is part of a project for DARPA, the US Defense Advanced Research Projects Agency, described by the Economist as the organization "that shaped the modern world." DARPA has played a role in the development of everything from the Moderna COVID-19 vaccine, to GPS, weather satellites, stealth technology, voice interfaces, and even the internet.
Tate's academic advisor, Professor Michael Robinson, is working on DARPA's Safe Documents (SafeDocs) program, developing new cyber tools to help prevent vulnerabilities in electronic files that can lead to cyberattacks. He shared one of his datasets with Tate, who is using it in a Bayesian statistics class to identify which features are most informative for detecting malicious files.
Tate will be working on an independent study with Professor Robinson next semester, focusing on DARPA SafeDocs. The project is a perfect fit for Tate's goals. After graduation, she wants to work in the defense/intelligence sector doing cyber security and data analysis.
She says that the AU program is preparing her well. "I've had incredible professors who have helped me understand real world applications of my studies. I am very excited about the DARPA project. I am hoping it will lead to more research in the defense field during my time at AU and carry on into my professional career. Dr. Robinson has generously shared his research with me, Dr. Casey has been nothing but encouraging during my studies, and my fellow classmates are always willing to lend a helping hand, both in and out of the classroom."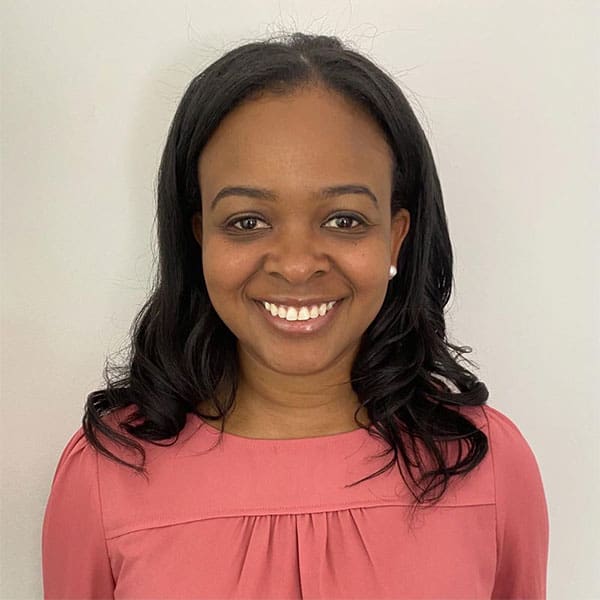 Lesley ChapmanMS, Statistics
MS in Statistics candidate Lesley Chapman is putting her statistical expertise to work for a worthy cause. As a postdoctoral fellow at the National Institutes of Health (NIH) National Cancer Institute, she is researching the genetic risk associated with pediatric cancer by using epidemiologic and statistical strategies.
Lesley says she received her first introduction to American University after attending an orientation session where she received a warm welcome and an impressive overview of the Masters in Statistics program. "Effective teaching approaches are something I appreciate as a part of any training experience, and American University offers just that. At AU, I have learned a number of foundational statistical concepts that I can directly apply to my research."
Lesley was recently selected as an American Society of Human Genetics Human Genetics Scholar. Her long-term goal is to become an independent research investigator and conduct research to identify genetic risk associated with diseases such as cancer. She says that her mathematics and statistics coursework has been a key part of her training.
"I am developing machine learning-based methods to identify risk variants in patients with rare disease. My classes, such as Mathematical Statistics and Advanced Machine Learning, have helped inform statistical based approaches to study patient populations. The faculty here have also been a tremendous support in providing explanations on the ways in which concepts discussed in courses can be applied to address questions in other fields of research."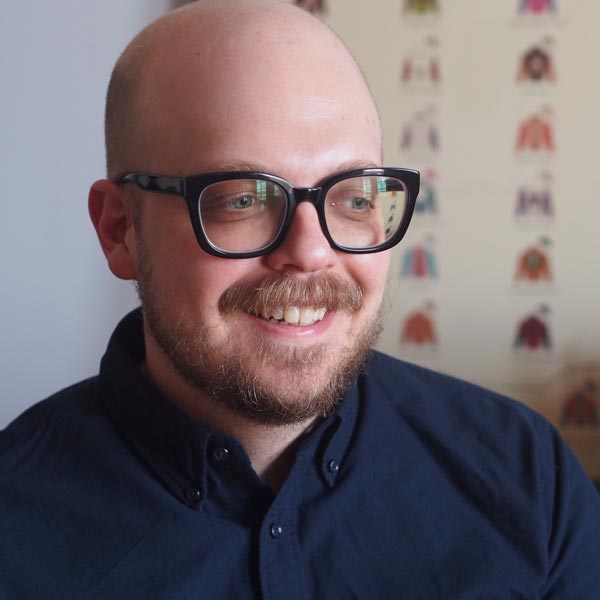 Gabe BullardMA, Literature, Culture, and Technology
Gabe Bullard, the deputy news director for audio at NPR affiliate WAMU, has been studying journalism and working as a journalist for half his life. He was a Nieman Fellow at Harvard University, managed WFPL in Louisville, worked as deputy director for digital news at National Geographic, and was among the founding producers of the NPR program 1A.
Gabe is also an MA candidate in American University's new Literature, Culture, and Technology program.
He says his graduate classes at AU have made his thinking and writing stronger and clearer. And one class in particular, "Emotions, Texts, and Subtext," taught by program co-director Arielle Bernstein, inspired him to try a new type of writing and hone his critical voice. The result is a full collection of essays on how we evaluate movies, TV, and music in the streaming era. It is Gabe's capstone, and he is also working on getting the essays published.
Gabe says he especially appreciates the mix of theory and application in his classes. "Literature, culture, and technology covers a wide swath of topics, and the program has changed how I think about everything from novels to the electronic devices I use every day."  
Gabe's goals include publishing more essays, and eventually a book. In the meantime, he says, he wants to keep applying what he's learned in classes to his daily work. "I love journalism, but reporting and editing news is so different from the type of writing I'm doing for my classes at AU. The program has made me better at my job, while also presenting an avenue for how I might do more writing about culture."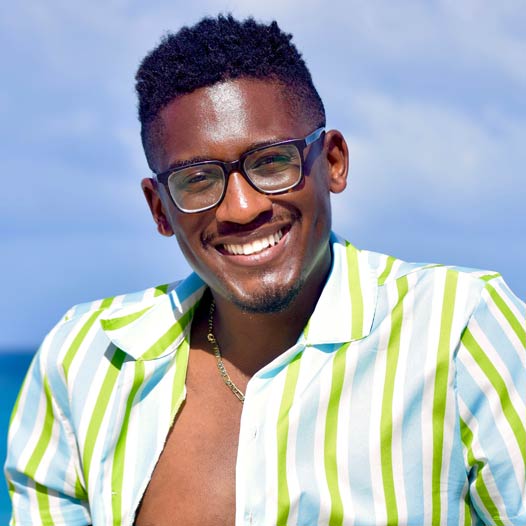 Austin T. FarrowMA, Arts Management and Legal Studies
Austin T. Farrow is an arts leader determined to impact the entertainment industry through Pan-African and LGBTQ+ stories, narratives, and conversations.
My dreams are uniquely big, and that is why I am putting in all the groundwork and effort to actualize them. I plan on impacting the world on a global scale—beginning through art and ending only God knows where!
He holds a BFA in Theatre with a concentration in Acting from Howard University and acting certificates from the British American Drama Academy in London. At American University, where he is working towards an MA in Arts Management and Legal Studies, Austin is a graduate arts ambassador, focusing on conversations about diversity, equity, and inclusion. He has also received a highly competitive Kennedy Center fellowship, where he works in the Social Impact Department.
Austin's goal is to create his own art collaborative, merging the four artistic disciplines of theatre, dance, fine arts, and music. "I want to successfully start up and run a nonprofit in every facet and phase," he says. "AU is equipping me with the necessary tools and network to make it happen. I am just beginning my second year, and I have gained so much clarity and understanding in nonprofit organization and operation."
Austin's dreams don't end there. He thinks about owning his own television and radio network and film studio, engaging in philanthropic work, and even creating fashion and product lines.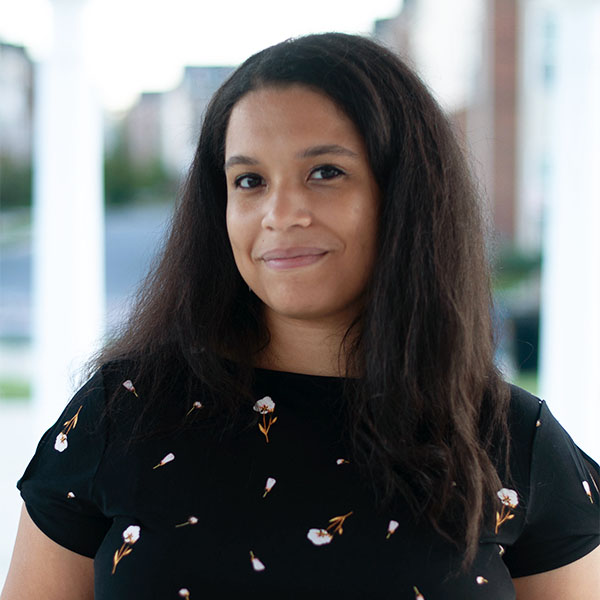 Darian WeaverPhD, Clinical Psychology
This summer, AU Clinical Psychology PhD student Darian Weaver joined the National Institutes of Health (NIH) to help research a very timely issue: how the Covid-19 pandemic has impacted alcohol use.
Darian has already held several research positions. She's worked as a research assistant at the University of North Carolina at Chapel Hill, and at Rush University Medical Center in Chicago. Most recently, she was a research coordinator at the Johns Hopkins University School of Medicine, where she focused on substance use disorders.
At the NIH, Darian worked in the laboratory of Senior Investigator Vijay Ramchandani, analyzing a survey on the pandemic and alcohol use. It revealed that approximately equal proportions of survey participants had increased and decreased their alcohol consumption during the pandemic. Those who increased their drinking reported an increase in negative life events, and those who decreased their drinking reported a decrease in negative life events. Darian hopes that the study will help researchers predict future substance use behaviors.
This fall, Darian is back to her studies at AU, focused on her future. "My goals are to continue conducting research and become a professor one day," she says. "American University is helping me achieve my goals by allowing me to learn from many amazing professors and peers."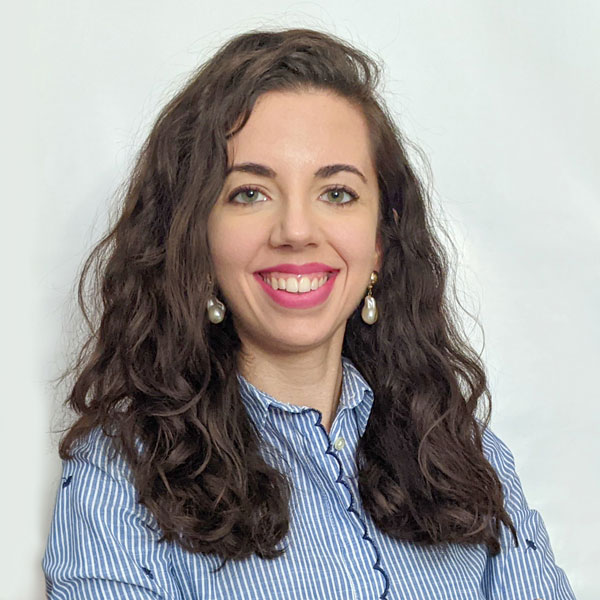 Esther Rodríguez CámaraMA, Art History
While living in Spain during the COVID-19 pandemic, Esther Rodríguez Cámara has been finalizing her capstone project for her MA in Art History at American University. Though she's far away from campus, Esther says that her studies have transitioned smoothly, thanks to her dedicated professors.
Esther specializes in modern European art from a feminist and transatlantic perspective. She received the 2021 Broude and Garrard Prize in Feminist Art History for her capstone, "Maruja Mallo's Heads of Women: A Pictorial Response to Racial Inequalities in Latin America."
Esther arrived at AU with a strong museum background, having done internships at the Museum of the Americas in Madrid (Spain), the Museum of the National Library of Spain, and the Museum of Photography in Reykjavík (Iceland). But she says that her approach to her capstone would have been impossible without her time at AU, where she revised her preconceptions about art history.
I applied to AU because I was searching for a place that would provide me with new approaches to art history that are not common in Spanish academia yet. I have had the chance to have some of the best scholars within the Art History field as my mentors. AU faculty trusted me from the beginning and gave me the opportunity to enrich my career by being a research assistant and a social media assistant, which I think are experiences that will be valued by future employees.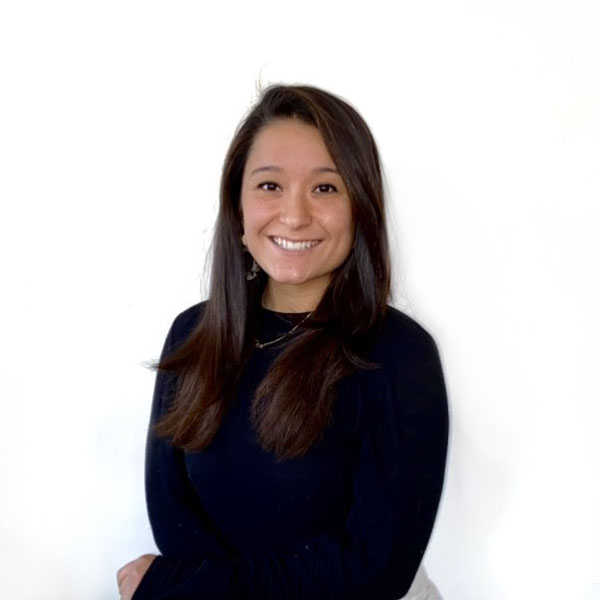 Lisa JosephMS, Health Promotion Management
Lisa Joseph earned her MS in Health Promotion Management in 2022 and landed her dream job before she even graduated.
Lisa works as the Program Coordinator of Education at the prestigious American Society of Clinical Oncology (ASCO). At ASCO, she helps organize educational courses conducted by volunteer/partnered doctors for the pharmaceutical industries. The goal is to help patients better understand current research and new drug developments.
At American University, Lisa has worked as a graduate assistant in the Department of Health Studies, doing program development, data collection, and data analysis. She helped produce a "Faithfully Fit Toolkit" for ministries to implement into their own programs, as well as a report on how to balance food store profits with customers' needs for fresh, healthy food. Finally, as a COVID Case Coordinator at the university, she worked on contact tracing and as a source of information for individuals who were potentially infected with the virus.
Lisa credits AU faculty for helping her to obtain her dream job at ASCO.
Each of my professors have played a key role in my success at AU. From my very first conversations with Dr. Snelling, I immediately felt supported when weighing my financial options. Since attending AU, I have had professors consistently provide wisdom and career advice, send job postings, and serve as references, supporting both my professional development and job applications.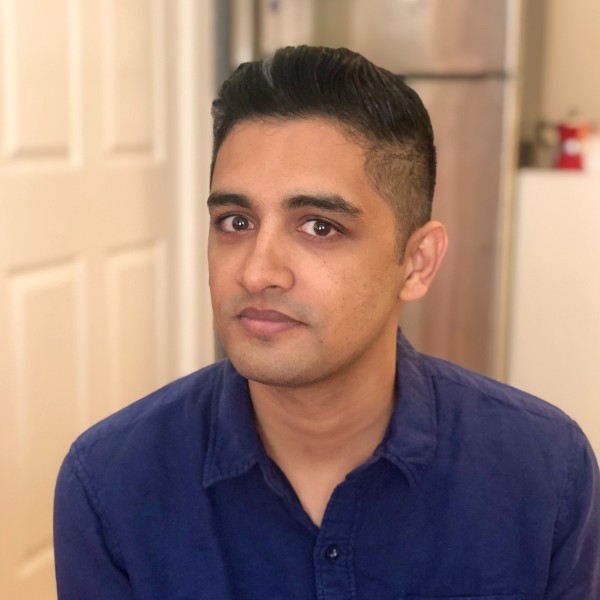 Vasudeva RamaswamyPhD, Economics
Economics PhD candidate Vasudeva Ramaswamy credits American University with helping him zero in on his area of research interest and for equipping him with the tools to explore and contribute to his field. 
During his time at AU, Vasu spent two summers working with the World Bank, studying the impact of agricultural aggregators in East Africa — specifically, how they provided income and security to farmer communities. 
Vasu's dissertation considers the effects of the Federal Reserve Bank's actions on household inequality. Who gains and who loses when the Fed increases (or decreases) interest rates? And how do these effects propagate through the economy? Because business income and profits play a key role in household inequality, Vasu looks at how businesses respond to the actions of the Fed. 
After he earns his PhD, Vasu says he would love to be able to continue researching the importance of economic heterogeneity in monetary policy transmission. "I am particularly grateful for AU's faculty, who are leading experts in their field and approachable and encouraging as mentors," he adds. "I am equally grateful for the rest of my PhD cohort, who are a brilliant and motivated group. I am learning from them continually."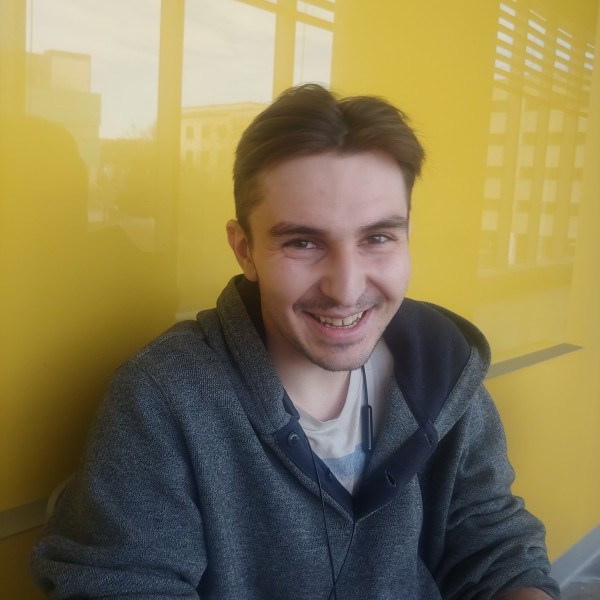 Alex LutzMS, Chemistry
Alex Lutz has loved chemistry since eighth grade. Now he is an MS in Chemistry candidate at American University, and he's received an Andrew W. Mellon Foundation grant to pursue exciting research on the next generation of antibiotics. 
In Associate Professor of Chemistry Monika Konaklieva's lab, Alex is synthesizing and purifying novel antibiotic compounds to test their effectiveness against antibiotic-resistant bacteria. Some of the compounds have also demonstrated effectiveness in treating Alzheimer's and other viral diseases.
Alex says he first became interested in American University because of its post-baccalaureate program. While he was studying in that program, he took a class on organic chemistry, which rekindled his love for chemistry and narrowed it down more to organic synthesis. He is planning on applying to PhD programs to continue his education in chemistry and hopes to focus on organic synthesis. He is also hoping to directly use the skills and techniques that he uses in the lab now in his future research.
"I would like to recognize and thank Dr. Monika Konaklieva for her constant support and guidance during my time as a graduate student," Alex says. "Her constant patience and support during my research have been invaluable to me. Her guidance not only helped my selection of work, but has been vital in keeping me on track."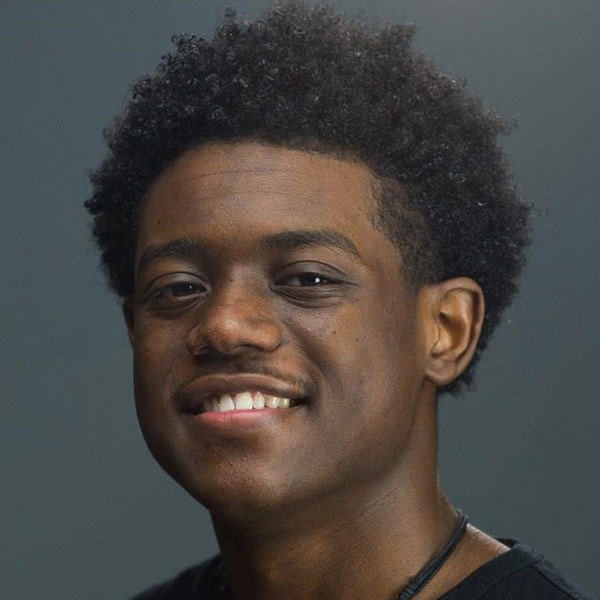 Ralvell RogersMFA, Creative Writing
MFA Creative Writing candidate Ralvell Rogers is making his mark on the literary world. He is the author of The Kansas City Boys Choir: Providing Hope for Tomorrow, which has been endorsed by luminaries Kevin Powell, G.S. Griffin, and Congressman Emanual Cleaver II. Ralvell has also established his own publishing company, Ambitious Stories, LLC, out of Kansas City, MO. He founded it earlier this year to focus on "often unheard, yet riveting and inspiring stories from the heart."
My time at AU has been brilliant in the fact that I've already learned much about what it means to be a Writer with a capital "W" and more importantly, a literary scholar. Though there is an obvious focus on our course work, it's been made clear to me that our work isn't exactly all that matters in the classroom. We are continuously connecting our work in class to the lives that we live on a daily basis and the world that we all live in, and I think that is very important for writers and entrepreneurs in the publishing sector because we are essentially the historians of our respective generations.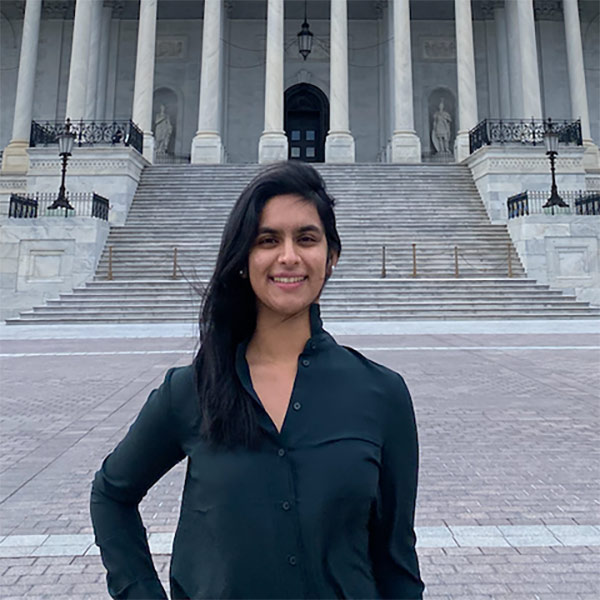 Rempee LahiriMS, Computer Science
While Rempee Kalia is working towards her Masters of Science in Computer Science (with a Concentration in Data Science) at American University, she's already using her knowledge and expertise to support international human rights.
At her internship at HURIDOCS, a Swiss-based NGO that helps human rights groups to gather, organize, and use information to create positive change in the world, Kalia is working with colleagues around the world, from Spain to Uruguay. Her responsibilities include researching ways to better incorporate technical documentation instruction, assisting with website development, and improving technical documentation for the flagship tool Uwazi, which organizes human rights information.
AU's Career Center has supported me with a largely diverse pool of career resources, and they looked over my resume and cover letter. It helped me land an internship in the human rights and government field, which is where I want to work after graduation. The importance of these internships is to take a sneak peak of what I want to do after graduation. I am beyond grateful to receive this type of opportunity, and I couldn't have done it without the support of my professors and advisors. Their mentorship has brought me this far!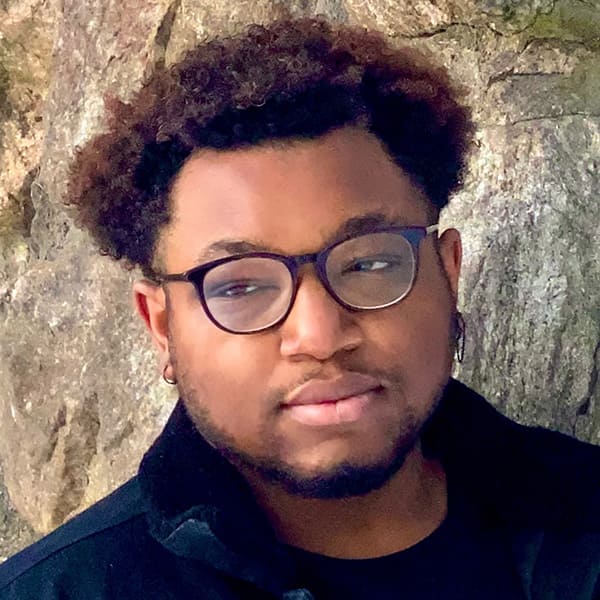 Delande JusinvilPhD, Anthropology
Anthropology PhD candidate Delande Justinvil is on a mission to protect Black burial grounds.
As a biocultural anthropologist, Delande researches the grounds and their history, analyzes remains from at-risk burials, and he advocates for their protection at both local and federal levels. During his time at AU, he helped curate the museum's 2019 exhibition Plans to Prosper You, collaborated with the Society of Black Archaeologists, and conducted dissertation research on recently discovered Black burials in Georgetown. 
What Delande finds most special about AU is the graduate student community. "Even with respect to my doctoral research, it was my friend Shannon Clark who in my first semester here really listened to what I wanted to do and connected me to the dedicated members of DC's Historic Preservation Office. My colleagues and I show up for each other in ways that reflect how centering care and compassion as an ethical practice can be equally, if not more, rigorous than our respective — and brilliant — scholarly pursuits."
Delande also praises Dr. Malini Ranganathan and the Antiracist Research and Policy Center (ARPC):
They have produced regular thought-provoking programming that deeply engages antiracist, feminist, and decolonial conversations both within and beyond the walls of the academy in ways that help me rethink and revise the critical approaches in my own work. In my eyes, the ARPC has really become somewhat of an intellectual anchor and integral component of the AU community.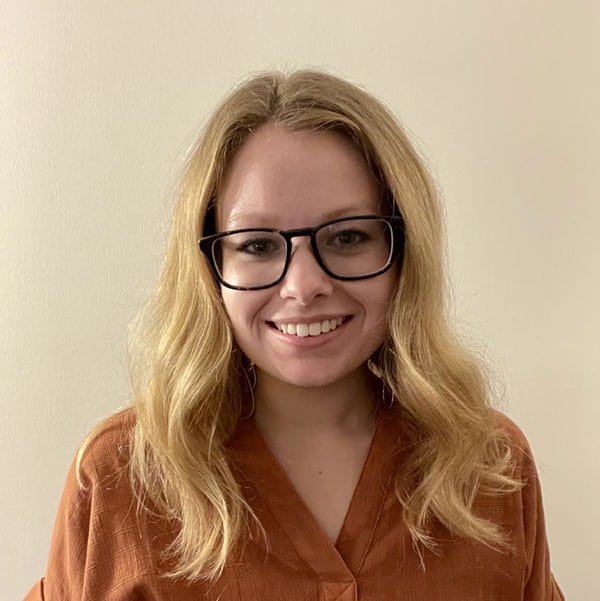 Emma VetterMA, Sociology Research and Practice
Emma Vetter has made the most of her time at American University. While earning her MA in Sociology Research and Practice, she's worked as research assistant for three professors, learning new skills along the way.
It's all prepared her for the next big step in her academic career: Emma is in the process of applying to three PhD programs, and she's already been accepted to one.
As a research assistant, Emma's work has ranged greatly. Working with Professor Nicole Angotti, she executed independent, in-person observations and interviews to pilot research methods. She also composed field notes and created observation protocol instructions. Working in Professor Ernesto Castañeda's Immigration Lab, Emma researched social determinants of health and worked as the third author on a peer-reviewed journal article about health disparities (Journal of Migration and Health). For Professor Gay Young, Emma is examining the role of collective emotions in the 2020 presidential election.
My combined research experiences with the Department of Sociology have allowed me to better understand how research moves from ideas to theory, research questions, and hypotheses. These opportunities have shown me how sociological methods can capture the lived experiences of overlooked communities. I am very grateful for my time at AU and with the sociology department for helping me grow academically.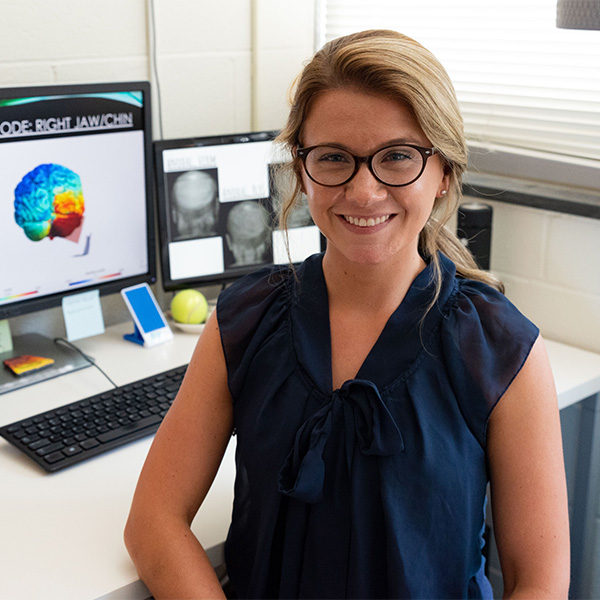 Laura RicePhD, Behavior, Cognition, and Neuroscience
Since arriving at American University in 2017, Laura Rice (PhD candidate, Behavior, Cognition, and Neuroscience) has been hard at work in the classroom and the laboratory, investigating the role of the cerebellum in autism.
Laura is using a combination of neuroimaging and neuromodulation methods in her research, which suggest that the cerebellum supports features of autism through its role in modulating neural circuits and behaviors. She uses a transcranial direct current stimulation (tDCS), a noninvasive form of neuromodulation, to electrically alter the cerebellum and tune neural circuits and behaviors in adults with and without autism. Her preliminary findings suggest that cerebellar tDCS alters neural circuits that underlie social behaviors in autism.
At American University, I have developed immensely as a scientist through plentiful opportunities to present my research findings, pursue collaborations, earn funding, and attend symposia, conferences, and workshops with the field's leading experts. My mentor, Dr. Catherine Stoodley, has been instrumental to my growth and development as a scientist. She strikes the perfect balance between providing guidance and fostering independence, and she has not only helped me to grow as a scientist, but as a student, teacher, mentor, and human. Her leadership and mentorship have helped me to build resilience and confidence as a woman in STEM.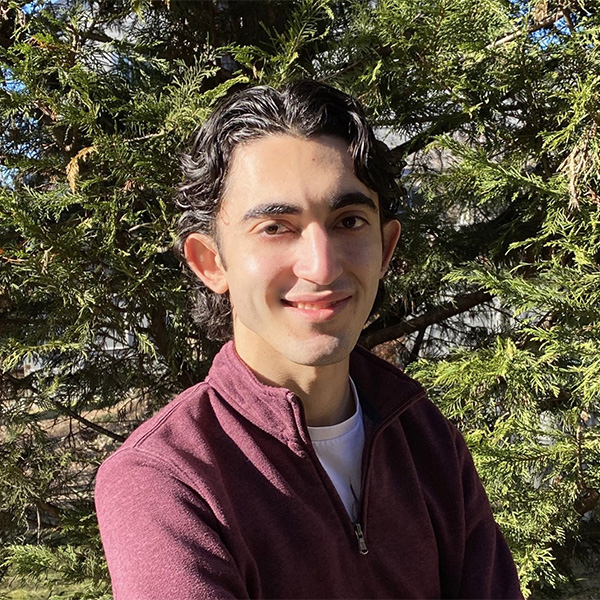 David GreenburgMA, Audio Technology; BA, Audio Production
Enrolled in AU's combined BA/MA program, David Greenburg will receive his BA in Audio Production (music track) with an Applied Physics minor this spring. At the same time, he is working towards an MA in Audio Technology.
As if that's not enough, David has a dream internship at the Brookings Institution, where he is working hard at editing, mixing, and producing engaging podcasts, webinars, and other audio content on current issues and public policy—skills he will use to bolster his future career goals.
Along with strengthening my audio production skills across new media formats, software, and content, I'm diversifying my portfolio by learning about and engaging in current news and public policy. Mike Harvey, the director of AU's Audio Technology program, along with AU faculty, and American University's location in Washington, DC, have all been invaluable in helping me secure multiple internships.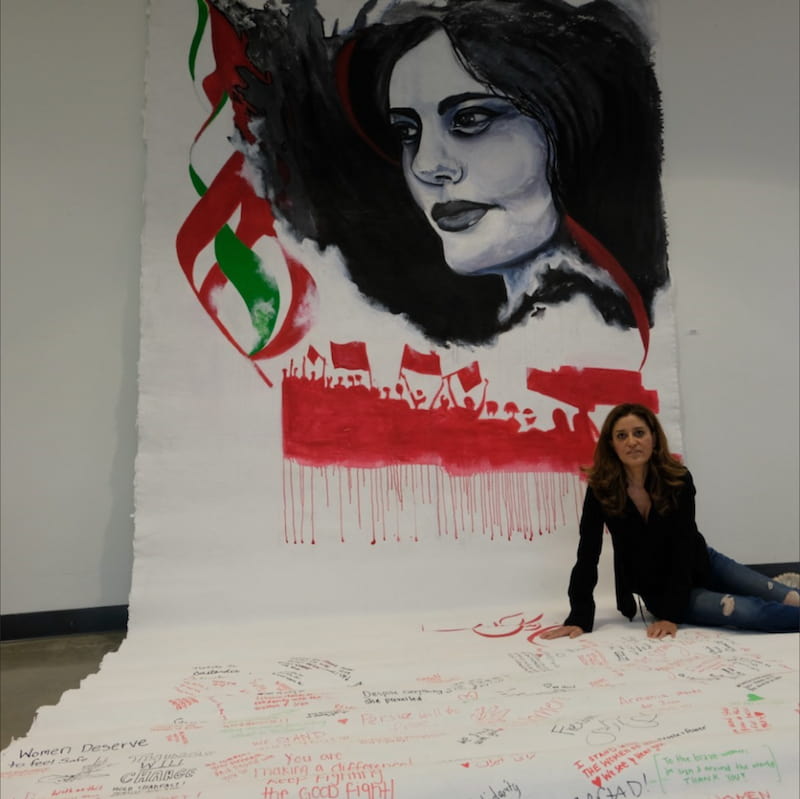 Phaedra Askarinam MFA Studio Art '24
"The only thing I could do to make an impact was to make my art big, make it seen, and invite other students to join me."
Phaedra Askarinam '24, an Iranian-born artist, watched protests unfold in her home country following the death of 22-year-old Mahsa Amini in police custody in September 2022. Since then, anti-government protests have riled the country, leaving countless protesters injured, arrested, or dead. 
"For a few weeks I couldn't make any art. I was paralyzed," Phaedra says. "Then, I knew I had to do something. The protestors needed help." As Askarinam's artistic practice centers around the experiences of women and girls in society, she was roused to act in the only way she could—through her art.  
Phaedra was inspired to create a monumental, 19-foot-long banner dominated by a painted portrait of Amini. The banner hung in the Katzen Arts Center rotunda in December and again in February, when passers-by were invited to actively participate by signing the banner in solidarity with protestors. "Sometimes we pass by art, or only give it a few seconds. If you participate in something, you remember it—viewers feel like they did something. They were part of this. We all want to be part of something good that helps others." Additionally, she asked viewers to contribute locks of their hair in tribute to Amini, who was arrested for wearing her hijab "improperly." 
In Iran, protests have been primarily led by students. Phaedra says, "I wanted to connect young people across the world, from our campus to theirs. We can amplify the protesters' voices—plus, our students need to know and understand what's happening around the world."  
Photo: Taylor Sizemo