Achievements
American Studies Prof Wins Teaching with Technology Award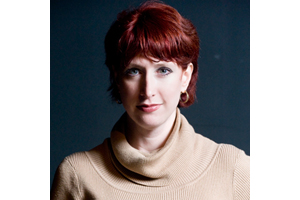 Stef Woods, adjunct instructor in the American Studies Program at American University, was recently awarded the prestigious Center for Teaching, Research, and Learning's Jack Child Teaching with Technology Award that recognizes teachers for creatively using technology in the classroom and enhancing the learning process for AU students. Woods received this award for her Activism and Social Media course and her Sexuality and Social Media course. 
Teaching about social media came natural to Woods. She has been blogging about relationships, dating, and sex for more than three years on her site, CityGirlBlogs.com. Learning how to navigate Twitter and shape her digital brand was critical to expanding her readership and obtaining freelance opportunities as a sexuality educator. Woods' expertise in social media stems from a personal experience. In 2010, Woods was diagnosed with breast cancer. She openly shared her experience with others via photographs, interviews, runway shows, panel discussions, and her blog to encourage early detection and raise awareness. Woods says, "Social media provided me with the platform through which I could convey health information to young men and women."
Woods's courses are extraordinary because she creatively weds technology and activism into them. Technology in fact plays an integral role in Woods's classes. In her fall 2011 Activism and Social Media course, Woods asked students to pick a cause or issue that they cared about and try to make a difference with this cause using social media. Woods says, "Quite a few students selected topics for their Activism and Social Media projects that involved a cause or health issue at American. It was great to observe the students trying to affect social change on campus!" The students had the option to work on an entirely new venture or involve an existing nonprofit into their final project. 
In her course on sexuality and social media, students also set up a Twitter account to follow the rest of the class, as well as 50 people or organizations in fields related to their class themes. Additionally, the students needed to re-tweet three articles and write a paragraph explanation how these articles were relevant to the course. Woods' student, Demi McLaren (BA American studies and secondary education '13), loved working with Twitter in this course, saying "Professor Woods encouraged us to show our research on twitter and blog posts, which allowed us to share the data we collected on our topics in a fun and more meaningful way. In addition, we tweeted about our findings to engage in a deeper conversation with other members of the twitter-sphere who were interested in the same causes and organizations. Professor Woods' class exposed me to an entirely new platform of organizing my work, all with a click of a button."
Woods also integrates case studies, digital campaigns, and YouTube videos into her classes to help students evaluate advocacy and sexual health through a social media lens. In using social media to connect with organizations and non-profits in the area, students learned how technology has the power to advocate for certain causes and organizations. Woods' student, Morgan Gress (BA communication '12) agrees, saying "as a public communication major I was pretty familiar with how to use social media, but after taking Activism and Social Media with Professor Woods, I learned how different sectors, including the non-profit and activist sector, have different digital needs and strategies." The knowledge that Woods teaches on social media and advocacy is invaluable to students entering today's job market. 
For this reason, Woods relies heavily on technology and social media in her courses. She explains, "Digital skills are essential in today's economy and social media marketplace. It's critical for AU students to recognize how to leverage digital media tools academically and professionally. My assignments allow students to develop an online body of work that they can present to potential internship supervisors and employers." Woods continues to teach courses on social media, health, and activism at American University. All of her classes have hashtags on Twitter so that students who are unable to take Woods's classes can follow the class discussions online. To learn more about activism and social media from this award-winning instructor, follow Woods and her class on a weekly Twitter chat in July and August by searching the hashtag: #smactchat.