Government & Politics
AU at Model Arab League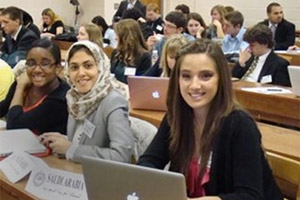 Students interested in the politics of the Arab World now have an opportunity to gain a firsthand look into the policy-making process of the Arab League due to an initiative by fourth-year SIS student Nouf Al Sadiq. Nouf, who originally grew up in Khobar, Saudi Arabia decided to form and lead a team comprised of American University students representing Saudi Arabia for the Model Arab League Capital Area Conference that will be held at Georgetown University this November.
After interning at the Royal Embassy of Saudi Arabia, Nouf was invited by the National Council on U.S.-Arab Relations to participate in the national Intern Model Arab League this past summer. Nouf won the award for Outstanding Delegate during the summer session, which encouraged her to form a team with other like-minded students to represent AU.
For those who are not familiar with the conference, Model Arab League is similar to the more widespread Model United Nations. Students are divided into various committees, which are assigned different issues to discuss and prepare solutions for. Students often prepare by monitoring developments in their respective countries two to three months ahead of the conference. The ultimate goal for participants is to come up with a solution respectful of and beneficial to all parties involved.
For Nouf, choosing Saudi Arabia as the team's country to represent was a thought-out but practical choice. "The reason our team chose to represent Saudi Arabia is because Saudi is usually vocal about their positions on issues. This is due to the idea that Saudi is determined to maintain its leadership and influential position in the region," said Nouf. The Gulf kingdom is a powerhouse in the Arab League with well-defined international policies.
The Model Arab League team at AU is currently preparing for next month's conference by monitoring news reports out of Saudi Arabia and holding weekly meetings to prepare solutions. Although she is graduating in the spring, Nouf hopes that the momentum for Model Arab League will continue on for the team next year.
The director of Arab Studies, Randa Serhan, is acting as faculty advisor for the team. The Arab Studies Program at American University would like to wish this year's Model Arab League team the best of luck!
For more information on participating in Model Arab League next year, please visit the conference home page (http://ncusar.org/modelarableague/).