2018 Feminist Art History Conference
September 28-30, 2018
Katzen Arts Center, American University



Art
4400 Massachusetts Avenue NW
Washington
,
DC
20016-8004
United States
2020 Conference: The Seventh Feminist Art History Conference will be held September 25 – 27, 2020.
Sixth Feminist Art History Conference
See complete 2018 Conference Schedule
Keynote: AMelia Jones
Essentialism, Feminism, and Art:
Spaces where Woman "Oozes Away"
Amelia Jones is Robert A. Day Professor in Art and Design and Vice-Dean of Critical Studies at the Roski School of Art and Design, University of Southern California.
Identity-based movements necessarily pivot around coalitional claims about identity that often appear essentializing—in its common forms feminism, for example, relies on a concept of women or women's experience that in many cases assumes an essential relation between the body or visual appearance of the person identified as female and women's oppression. This paper addresses the history of debates about essentialism in feminism, particularly in relation to art and visual theory since 1970. Because we identify and make sense of gender identity largely through visual cues, visual art and culture are key sites to understand how essentialism works and why, in some cases, it might be "essential," at least as a moment to pass through on the way to affording rights and equal status on the basis of gender/sexuality. The paper ends with a discussion of how genderfluid or trans people complicate essentializing arguments in feminism.
Accommodations
Courtyard by Marriott Chevy Chase
5520 Wisconsin Avenue
Chevy Chase, MD 20815
301.656.1500
Embassy Suites by Hilton
Washington DC, Chevy Chase Pavilion
4300 Military Road, NW
Washington DC 20015
202.362.9300
Washington Marriott Wardman Park
2660 Woodley Road, NW
Washington, DC 20008
202.328.2000
Days Inn
4400 Connecticut Avenue, NW
Washington, DC 20008
202.244.5600

Conference Background

Thanks to a generous endowment, the Feminist Art History Conference at American University will resume on a biennial basis starting in the fall of 2018.
The conference builds on the legacy of feminist art-historical scholarship and pedagogy initiated by Norma Broude and Mary D. Garrard at American University. With the goal of fostering a broad dialogue on feminist art-historical practice, the event will feature papers spanning a range of chronological, geographic, and intersectional topics.

Previous keynote speakers include Lisa Gail Collins, Vassar College (2014); Patricia Simons, University of Michigan (2013); Whitney Chadwick, San Francisco State University (2012); Mary Sheriff, University of North Carolina-Chapel Hill (2011); and Anna Chave, Queens College and the Graduate School, CUNY (2010).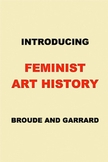 New Paperback by Broude & Garrard
Introducing Feminist Art History, now available in paperback as well as e-book format, brings together the landmark introductory essays and prefaces written by Norma Broude and Mary D. Garrard for their five co-edited volumes on feminism and art history (1982-2005). With a new preface (2014).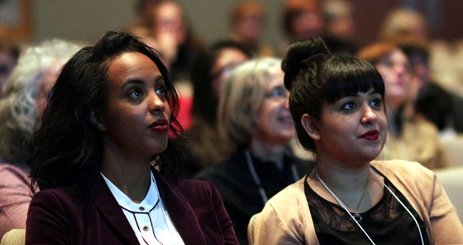 Lead Sponsors
Robin D'Alessandro and Dr. Jane Fortune
Our sincere appreciation to Ms. D'Alessandro and Dr. Fortune for securing the future of the Feminist Art History Conference through their generous support.
Committee
Joanne Allen, Juliet Bellow, Norma Broude, Kim Butler Wingfield, Nika Elder, Mary D. Garrard, Helen Langa, Andrea Pearson, and Ying-chen Peng.
American University's Art History Program and the Department of Art in the College of Arts and Sciences are honored to host the Feminist Art History Conference and welcome participants to the Katzen Arts Center on AU's campus.
Conference Testimonials
"Thank you for staging such an interesting and important conference that keeps feminism visible in our field and gives us a chance to share ideas across continents and generations."
- Sherry C.M. Lindquist
"What defines a memorable experience for a scholarly conference is superb organization, exemplary scholarship, and genuine collegiality. We look forward to continuing our conversations with this community of feminist scholars."
- Amy K. Hamlin & Karen J. Leader