Arts
Feminist Art History Conference in Second Year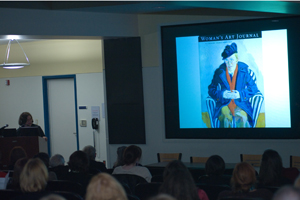 The coordinating committee for last year's first Feminist Art History Conference wasn't sure what to expect when they put out the call for papers for the conference, designed to honor the work of Drs. Norma Broude and Mary Garrard and provide opportunities for feminist art historians to present their research.
As it turns out, there was no need for concern. "We ended up with about 75 papers, and ended up choosing 40 from that pool. When we closed the registration, we had 171 registrants," says Kathe Albrecht, the visual resources curator for the Department of Art. "It was way beyond what we thought."
After last year's success, the committee felt confident that they could make this conference an annual event. The goal of this year's conference is the same as last year's—bring together the feminist art history scholarly community. "Providing an opportunity for feminist scholars and students to hear what people are doing, to get new ideas for the directions that scholarship could go in, to build community among feminist scholars, that was our goal," art history professor Helen Langa says.
This year's conference will begin with a Friday afternoon program at the National Portrait Gallery in connection with the exhibition entitled "Seeing Gertrude Stein: Five Stories" and a panel discussion. Friday evening will feature the opening reception and the AU Chamber Singers performing music focused on women composers and writers. Saturday and Sunday will be dedicated to twelve conference sessions split into three tracks, with 51 papers total. "Everybody said, I want to be able to go to everything, but we also wanted to include as many people as possible, so we ended up saying we'll run three parallel tracks," Langa says.
Mary Sheriff, the W.R. Kenan, Jr., Distinguished Professor of Art History at the University of North Carolina—Chapel Hill, will deliver the keynote address on Saturday evening. "What's valuable about Mary Sheriff's work is that she doesn't just do biography, but she does conceptual analyses of the cultural context in which women were able or were not able to become respected as artists," Langa says.
In addition to creating a niche art history community, the conference highlights how important American University is to the feminist art history field. "It showcases what we offer to the world, which is a very unique program that emphasizes the feminist aspects of the study of art history," says Albrecht. "We have pioneering feminist art historians on our faculty—they have a legacy."
Langa agrees, but takes it a step further. "AU is a university that has prided itself on its support for women scholars," she says. "The combination of reinforcing that vision of American University as a place which is open to radical feminist perspectives and as a place that supports its women faculty members is something that I think the conference reiterates."
The second annual Feminist Art History Conference will occur November 4-6 at the Katzen Arts Center. The conference is free and open to the public. Visit the conference Website for more information.