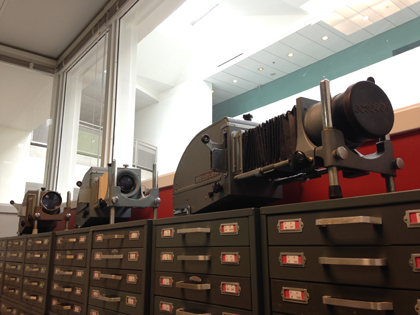 The Visual Resources Center (VRC) is a hub for image research and production, study and collaboration, print resources on the arts and graphic design, and audio/video equipment circulation for all programs of the Art Department. The VRC image collection, available through Artstor, supports faculty teaching needs in the areas of art, architecture, and graphic design. Of particular strength is a focus on women artists from the Renaissance to today.
Samuel L. Sadow, Visual Resources Curator, is available for student or faculty consultation in areas of art historical research, imaging, digital humanities, and fair use and copyright in the arts.
The VRC is a welcoming environment for all students and a good place for small meetings or study sessions. Students, faculty, and staff are welcome to use the public computer terminals in the VRC to check their email and conduct online research. See more information on available resources.
Search Visual Resource Center COllections
Image and Research Resources
The AV Equipment Office, located within the VRC, circulates photo, video, and sound equipment to students currently enrolled in Studio Art or Graphic Design classes. A valid student id is required, as well as a signed equipment use agreement form. Equipment is included in the main library online catalog and described on Art Studio equipment blog and Graphic Design equipment blog. Advanced equipment requires faculty approval. Equipment is available only when the office is open and overdue and damage fees are strictly enforced. Hours change each semester, see office for current schedule.
See what is available in the library's online catalog:
Art Faculty and art history graduate students may set up appointments to use the flatbed and slide scanners to work on images for classroom teaching and student presentations. Please contact curator Samuel Sadow to set up an appointment and arrange a scanning tutorial.