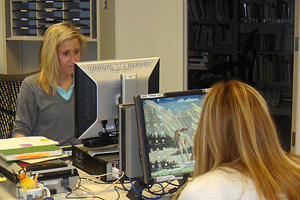 Students, faculty, and staff are welcome to use the public access computers in the Visual Resources Center (VRC) to check their email and conduct online research.
Art Faculty and art history graduate students may set up appointments to use the flatbed and slide scanners to work on images for classroom teaching and student presentations. Please contact Sarah Osborne Bender to set up an appointment and arrange a scanning tutorial.
Faculty members interested in using MDID Madison Digital Image Database must have an MDID account. If you are interested in using MDID, please contact Sarah Osborne Bender about participating in an MDID tutorial and obtaining an account. Although the MDID program exists to serve the art history and studio classrooms, faculty in Philosophy, History, and other disciplines have established accounts in the MDID system and use the program regularly. Adding images to MDID for specific courses outside the department must be arranged with the VRC staff. Please stop by the VRC or contact Sarah Osborne Bender to learn more about the MDID program.
Log in to your MDID account if you already have one.
Are you interested in using other art and image resources on campus? ARTstor and other networked resources are available to art history students and faculty through AU's Bender Library, which offers a complete listing of art resources, including electronic journals, indices/databases, and links to further art history information such as the BHA (the Bibliography of the History of Art) and RILA (Repertory of Literature of the Arts).
Here are some helpful links for learning more about many aspects of art image management, art history, and the museum field:
Getty's Union List of Artist Names (ULAN)
Scholar's Resource
College Art Association
Visual Resources Association
Copyright Crash Course from the University of Texas, Austin