Arts Management Learning Outcomes

By the end of the program:
Students will have an overview of and understand the political, social, technological and economic contexts in the field of arts management.
Students will connect theory to practice in arts management through class projects with outside organizations and government, guest speakers, colloquia, convenings with thought leaders in arts management, involvement of outside experts on thesis committees, and internships at international, national and local arts organizations and in other creative industries.
Students will be able to explore, analyze and problem solve major ethical and managerial issues affecting an arts organization.
Students will be able to understand and contribute to financial reporting, effectively use financial tools and analysis to inform sound decision-making, prepare and modify budgets and communicate financial results to key stakeholders.
Students will be able to use and apply marketing theories and concepts to develop audiences, promote the nonprofit arts as a valuable social sector, and develop marketing plans and strategies.
Students will be able to develop effective fundraising strategies and tools to raise funds from institutional, government and individual donors.
Students will be able to analyze the local, state, federal and international policy context for arts organizations.
Students will be able to design and conduct major research project, reviewing the state of the field to locate their work within larger scholarly and professional conversations; identifying and accessing a sufficient base of primary or secondary sources and producing a well-written and professional research paper.
Students will be able to work effectively with and on a board of directors and understand a variety of approaches to doing so.
Using a variety of formats appropriate for a variety of audiences, communicate clearly and compellingly in written and spoken word about the business and context of the arts.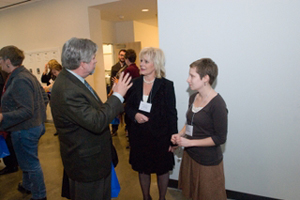 Beth Hauptle, Director of Marketing and Communications, The Studio Theatre

Monica Jeffries Hazangeles, President, Strathmore
Russell Willis Taylor, President and CEO, National Arts Strategies